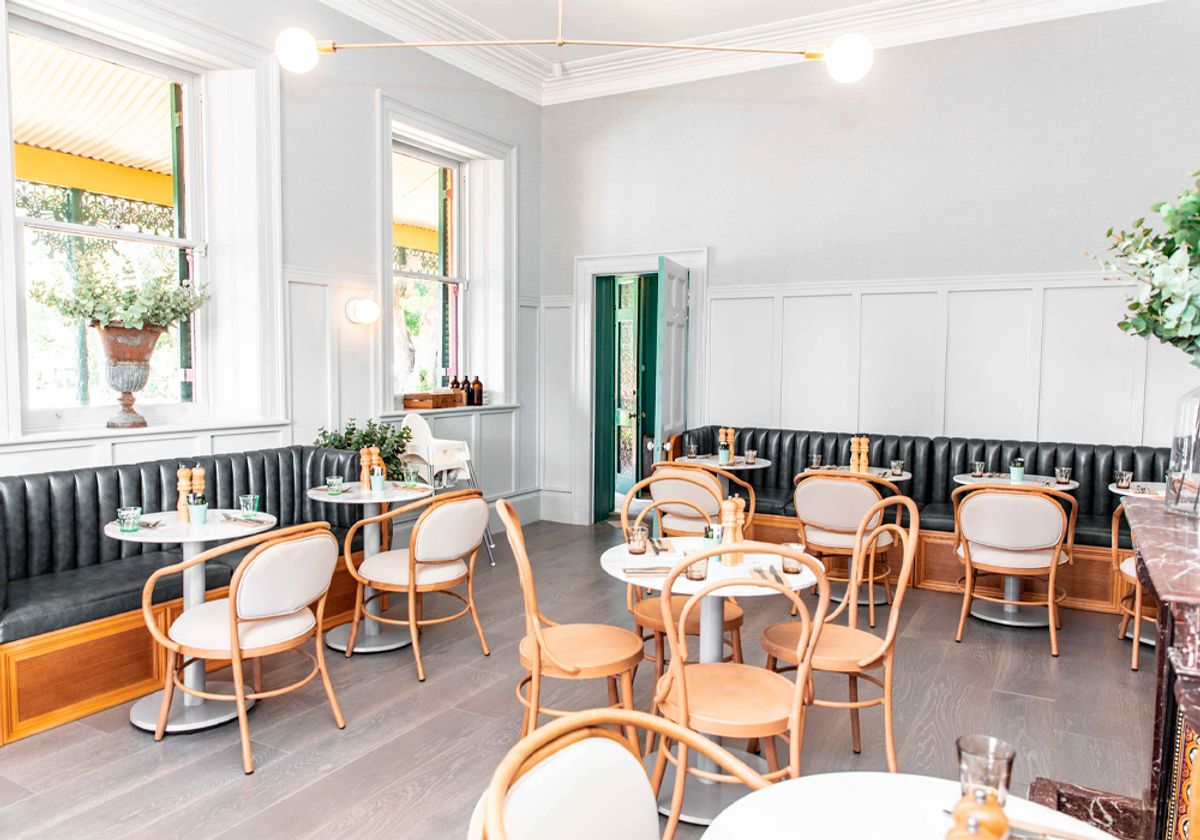 In finding the perfect chair, you should consider the frame's sturdiness and the seating's comfort. It would be a nightmare to see fellow guests and customers sitting on wobbly, unstable chairs. Safety-wise should be on top of your priority alongside the stylish design that fits well with your interior.
If you're still looking for the appropriate furniture to incorporate into your restaurant, read this article, as we've thoroughly listed the best dining chairs to buy in 2022.
This modern retro dining chair is suitable for commercial use, particularly for restaurants and cafes. The chair offers a premium look and gives out a comfortable dining experience. Moreover, the chair is easy to style in any modern space concept - minimalism or Scandinavian. The product is made of durable materials like LVL veneered top rail and seat with solid rubberwood legs. It is lightweight; thus, it is easier for you to move. There are two colours to choose from, light brown or light green.
This simple and modern solid dining chair is suitable for those fond of the modern minimalist design concept. The chair's unique feature is implementing the bentwood technique in making the backrest. Due to its clean line, the chair is easy to maintain and very durable. It is made of high-quality solid wood and dimity fabric to ensure a longer lifespan of the product.
Another eccentric option for restaurant furniture is this retro-style dining chair. The design is neat, generous, and in line with the favourite of contemporary young people. Adding this particular dining chair design helps lighten up your restaurant space's ambience. The product is made of high-quality Malaysian oak and chestnut colour dimity fabric.
Our contemporary solid wood dining chair is probably the one you want to incorporate into your restaurant dining space. Its sleek and clean line design will enhance your room's interior. The product is made of LVL veneered and solid rubberwood that gives a strong structure and durability. It also comes in various colours like black, cocoa, grey, pickle, and green and is natural to pair with your dining hall.
Metal is one of the materials that can last longer and is very durable to withstand heavy usage. This retro industrial style dining chair builds to give your customers ultimate comfort with sufficient support on the back. The product is also made of a high-quality metal frame and timber bench seat to secure the chair's durability.
This elegant stainless steel dining chair is suitable to integrate into any modern restaurant concept. The combination of emerald green and gold chrome gives out maximalist vibes to the interior and can be the space's focal point. The product comprises fabric cushion seats with good quality stainless steel frames.
If you're planning to implement an industrial or rustic concept of the interior, this American High Back Steel dining chair is the perfect option. The chair is stackable, hence easy for storage and portable purposes. The chair provides ultimate comfort and relaxation with its solid contour seat. Its frame and seat are mild steel, thus very durable and easy to clean. This dining chair is best known for its quality.
Leather is recognised for its capability to withstand more extended periods and easy cleaning of any spilled drink and food. This contemporary style designer armchair combines two strong materials - metal and leather. The chair features a mild steel tube frame and a PU leather cushion seat. Adding this unique piece of furniture can enhance the beauty of your restaurant's interior design.
Stylish, comfortable and fun are the epitome of this plastic dining chair. Unlike your ordinary plastic chair, this product is designed with an ergonomic backrest for greater comfort. The chair is purposely designed to be stackable, and its PP plastic material allows lightweight for easy mobility. The product comes in 3 different colours of choice - grey, beige and blue.
Are you still looking for a premium yet simple lounge chair for your restaurant interior? Well, this dining chair is one of the best choices to pick. The sloped arms and subtle wingback create a comfortable dining experience for your fellow guests. It is made of ABS plastic with a matte finish and 100% solid wood dowel legs with floor protectors for sensitive flooring. The combination of three different types of material - plastic, wood and light metal makes this chair very durable and robust with minimal maintenance. It comes in two primary colours, which are black and white.
Finding the perfect furniture that suits your needs and preferences is not easy. Therefore, I hope this article, '10 Best Dining Chair Designs for Restaurant Use in Malaysia 2022', will give you some ideas for revamping your space. If you're looking for a place to buy home, office and restaurant furniture, feel free to visit our website or walk into our physical store in Kota Damansara upon appointment.
Looking for new wardrobes or furniture for your home or interior design project? Check out this amazing furniture website! www.tekkashop.com.my
Contact us to find out more
Customer enquiries:
Phone: +601120641106
Email: admin@tekkashop.com.my
For more stories like this, join our Facebook community on Facebook
Need help with your order? chat with us here
About Author
Fatiha
Fatiha is a freelance content writer specializing in commercial writing, loves travel, and enjoys walking on the beach.