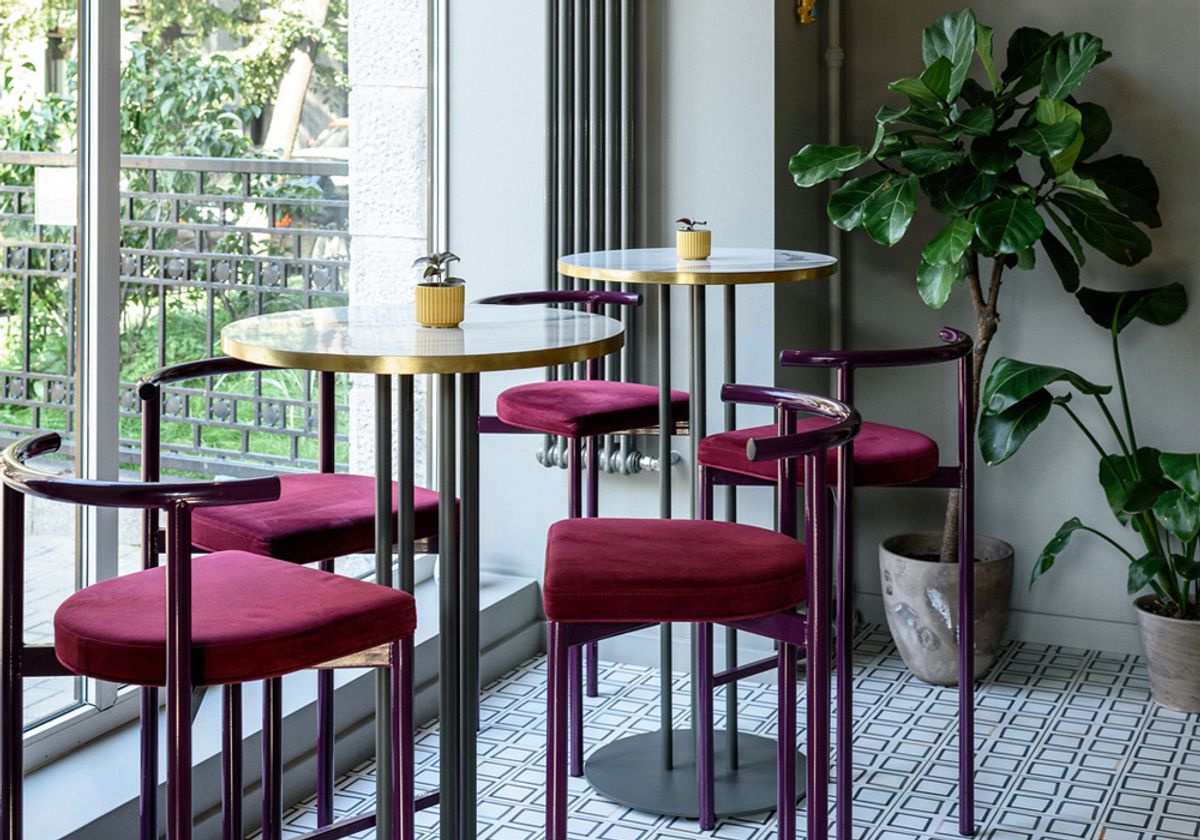 Cafe hopping during the weekends has become a trend to spend quality time with your beloved ones or enjoy good food with an aesthetic ambiance. An excellent interior worth posting into the people's insta-story and feed would be a plus point for the cafe. It stands on the same level as serving high-quality food to the customers.
If you're still struggling to find inspiration for your cafe, read through this article, as we have listed a few fantastic and aesthetic interior designs.
Image Credit:
Allo by The Owls Cafe Official Instagram
ALLO by The Owls Cafe is strategically placed in the heart of Mont Kiara and is famously known for its signature treats – waffles, coffees, and fruity drinks. The interior setting centers the tropical-themed with a hint of luxury. The unique combination of velvet chairs and marble dining tables helps the restaurant appear sophisticated—the addition of minimal and gold knick-knacks on the display wall pops up the entire interior design.
Address: Ami Suites, Mont Kiara, Kuala Lumpur
Operating hours: 8 am - 10 pm, daily
Contact number: 017-636 9953
Social media: Instagram
---
Steal the look
Tekkashop FDDC1150SB
Tekkashop KHSF1331
Tekkashop FDDC0800GY
---
Image Credit:
Therefore Cafe Official Instagram
Therefore Cafe proudly highlights the uniqueness of 'Made in Malaysia' in their food and interior design – 'all for you to feast your eyes on, while you feast on some local fusion nosh.' It combines the modern and traditional identity into its cafe concept – different shades of pink and rattan furniture as the focal attraction.
Address: Lot 02-G, Menara Symphony, No. 5,
Jalan Professor Khoo Kay Kim Seksyen 13,
46200 Petaling Jaya, Selangor
Operating hours: 12 pm - 10 pm, daily except Tuesday
Contact number: 03 7931 1718
Website: Therefore Cafe
---
Steal the look
Tekkashop FDGC1417LBR
Tekkashop FDLC1250P
Tekkashop SIPA558BL
---
Image Credit:
Bean Brothers Cafe Official Instagram
The cafe started with a humble beginning by roasting various coffee beans from all over the world. As their business grew and upgraded to new machines, the goal remained the same – to be an excellent coffee roaster and company.
Concealed in the industrial area of Sunway Damansara, they adopted the coffee house concept – modern industrial and rustic. The cafe interior is built by keeping raw and industrial elements like steel, wood, and bare bulbs. The large opening between the ground and first floor creates a "stage" that focuses on our baristas' at their best.
Address: Jalan PJU 3/50, Sunway Damansara, 47810 Petaling Jaya,
Selangor Darul Ehsan
Operating hours: 8:30 am - 8 pm, daily
Social media: Instagram
---
Steal the look
Tekkashop VDDC0258B
Tekkashop LBDT2611
Tekkashop FDBS1075GY
---
Image Credit:
Light Capture Cafe Official Instagram
Another must-try hipster cafe in the heart of the city is Light Capture Cafe by H.O.N. Famously known for its eccentric industrial style – exposed brick walls, high-ceiling, spacious dining area, and bare bulbs. The interior incorporates a modern twist into its rustic concept with the choice of furniture. It would be best if you were stunned by their cafe ambiance and food choices.
Address: 81 & 83, Jalan Tun H S Lee, City Centre,
50000 Kuala Lumpur,
Operating hours: 11 am - 10 pm, Mon - Fri
10 am - 10 pm, Sat & Sun
Contact number: 010-232 8183
Social media: Instagram
---
Steal the look
Tekkashop FDRC1875BK
Tekkashop FDBS900BL
Tekkashop FDDC0480
---
Image Credit:
Cili Kampung Official Instagram
A one a kind of cafe that serves traditional Malay cuisines – Masak Lemak, sambal belado, and many more. The cafe integrates a modern interior design style with a hint of tropical concept – rattan dining chairs, rattan lamps, and green leaves. The owners and designers are very meticulous with the choice of furniture to ensure that the customers will get the ultimate comfortable dining experience.
Address: Lot No V-02, Hartamas Walk, Hartamas Shopping Centre,
Jalan Sri Hartamas 1, Taman Sri Hartamas
Operating hours: 12:30 pm - 3:30 pm & 6 pm - 10 pm, daily
Contact number: 014-965 6124
Social media: Instagram
---
Steal the look
Tekkashop FDCH995GR
Tekkashop VDDT2507W
Tekkashop FDRC1995NA
---
Shopping With Us!
In Tekkashop, we have extensive choices of eccentric dining tables and chairs to incorporate into your restaurant interior. From different materials – rattan, wood, metal, and plastic and designs. If you're inspired by the choice of furniture from the above restaurants, do visit our website to see more cafe furniture collections.
Looking for new wardrobes or furniture for your home or interior design project? Check out this amazing furniture website! www.tekkashop.com.my
Contact us to find out more
Customer inquiries:
Phone: +601120641106
Email: admin@tekkashop.com.my
For more stories like this, join our Facebook community on Facebook
Need help with your order? chat with us here
About Author
Fatiha
Fatiha is a freelance content writer specializing in commercial writing, loves travel, and enjoys walking on the beach.