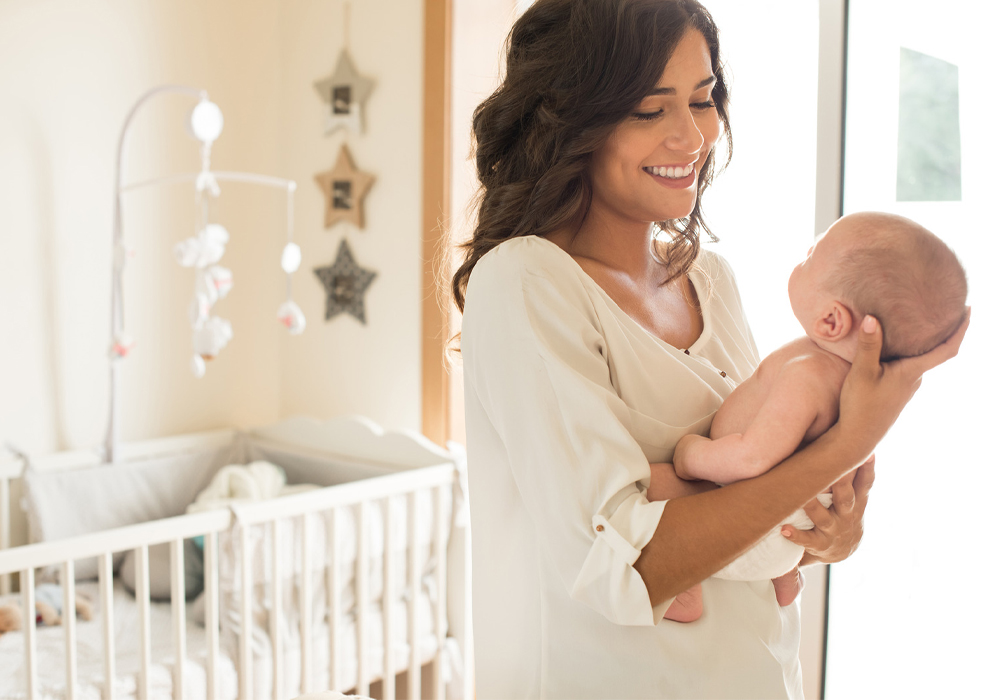 Welcoming and expecting a baby into your life is undoubtedly one of the best feelings in this world. Decorating a nursery room for your baby might be a little bit overwhelming. Every parent wants to provide the best safe shelter and a snuggly space for their little ones. Designing a nursery room might be tricky as you need to consider the security of your baby while ensuring the convenience of the parents.
Read through this article and be ready to jot down essential points in making the best room for your baby.
1. Pick a Theme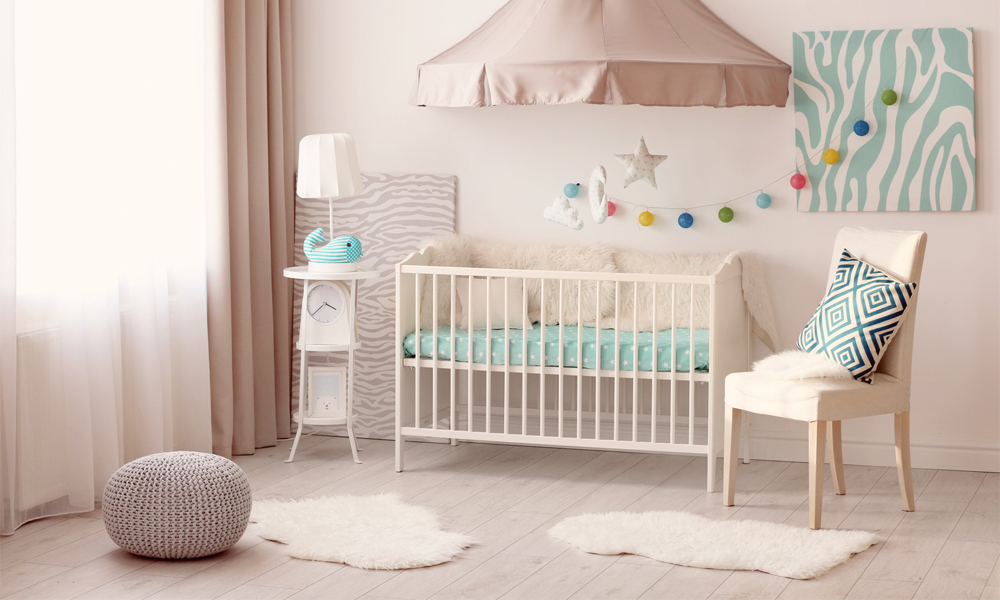 The first thing you need to consider before deciding on the furniture and decorations is picking a theme for the room. A gender-specific room theme like pink for girls and blue for boys might be a little outdated and has a few flaws – not timeless and needs to be changed after a certain period. Hence, you are highly recommended to pick the interior theme's basic and natural colour scheme. The best primary colours suitable for a nursery room are pastel grey, soft cream, pearl white, and sand brown. However, there is no strict set of rules in deciding the best concept for your little one's room.
2. Essential Furniture
Before you start painting the room according to the decided theme, buying some essential furniture might be the best option.
Among the compulsory furniture for the nursery room are:
Baby Crib: Baby cot is one of the essential pieces of furniture for a nursery room as it promotes better safety for your baby. Baby spends most of their early year of life sleeping; hence a baby crib becomes the safest place for baby to sleep and promotes independent sleep. Apart from that, both parents can have the bed to themselves and get a comfortable sleep.
Recliner Sofa: A recliner sofa provides comfort, especially for the mother to breastfeed and put the baby to sleep comfortably. Aside from that, most mothers need to be given extra attention during the postpartum period. Sitting and standing in the wrong position for too long can lead to extreme fatigue. Hence, the correct choice of furniture helps the mother recover and improve their physical and mental health.
Rocking Chair: A rocking chair is another alternative if you find a recliner sofa too bulky for the room. It imitates the function of a recliner sofa – to breastfeed and put the baby to sleep.
Baby Changing Table: The presence of a baby changing table benefits both parents and children. So the mother can do the changing diaper duty according to your height comfortably. Apart from that, all basic supplies like diapers, baby wipes, ointments, and clothes are easily reachable.
Baby Mattress: A baby mattress is vital as it provides comfortable sleep to the baby while ensuring safety. A good baby mattress should be firm and have a flat surface to avoid suffocation hazards, and the mattress should be able to support your baby's body for better development.
3. Create Storage
Creating extra storage in the nursery room is essential to keep all the basic supplies intact and hygiene. The baby's nursery room has a high tendency to look messy with all toys and baby's supplies. Therefore, set up a diaper station near the baby changing table or recliner sofa so that the parents can reach it. Organize, label, and keep track of all the supplies to avoid running low during a crucial time.
4. Make It Convenient for Parents and Baby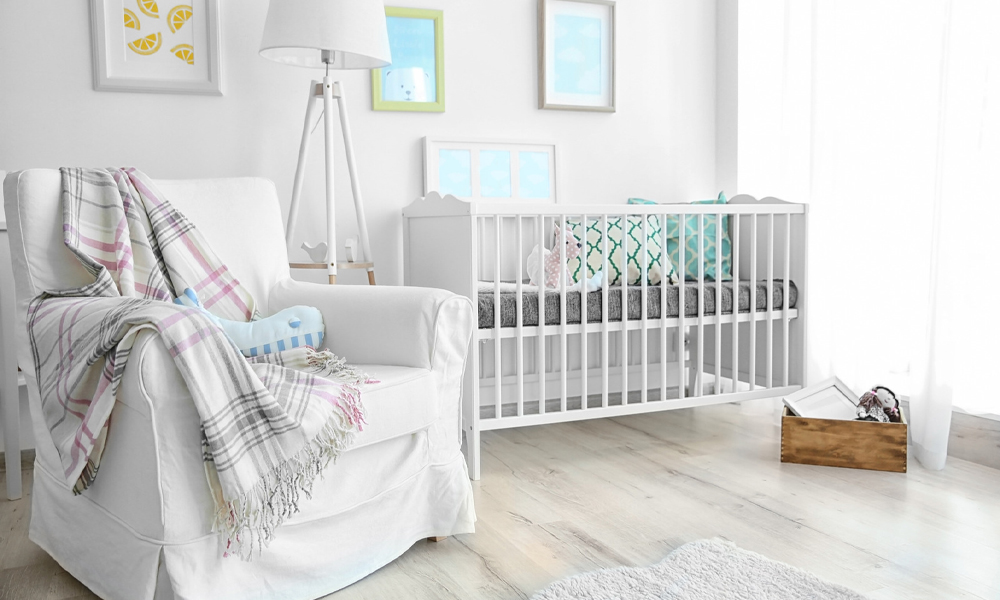 Another thing that you need to consider for your baby's nursery room is to make it convenient for both parents and baby. Parents with newborns are prone to sleep deprivation, leading to stress and extreme fatigue. Therefore, a hustle free environment helps ease the routine of caring for the baby – feeding, putting the baby to sleep, and playing with them. Among the tips that need to consider:
Placing the furniture and decorations according to your preferences and needs.
Put the storage rack beside the changing table to make it easier to reach.
Organize and label every essential supply to avoid confusion.
5. Adding Colours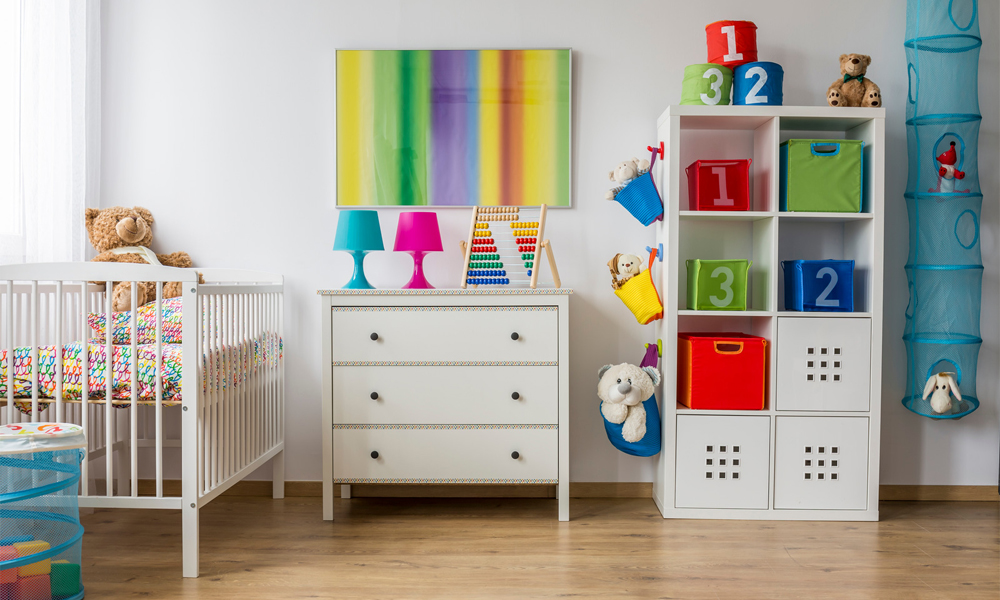 As the baby grows up, colour blocks help with the child's development. It is proven that bright colours like red, orange, and green can stimulate the senses of the baby. Starting from age four to eight months, the baby's brain starts to grow and thrive – able to recognize faces, see objects farther away, and pay attention for more extended periods. Therefore, adding bright and colourful decorations like Montessori wooden blocks, growth charts, hanging mobile – clouds and raindrops, animals, or flowers can improve the baby's milestones.
6. A Smart Baby Monitor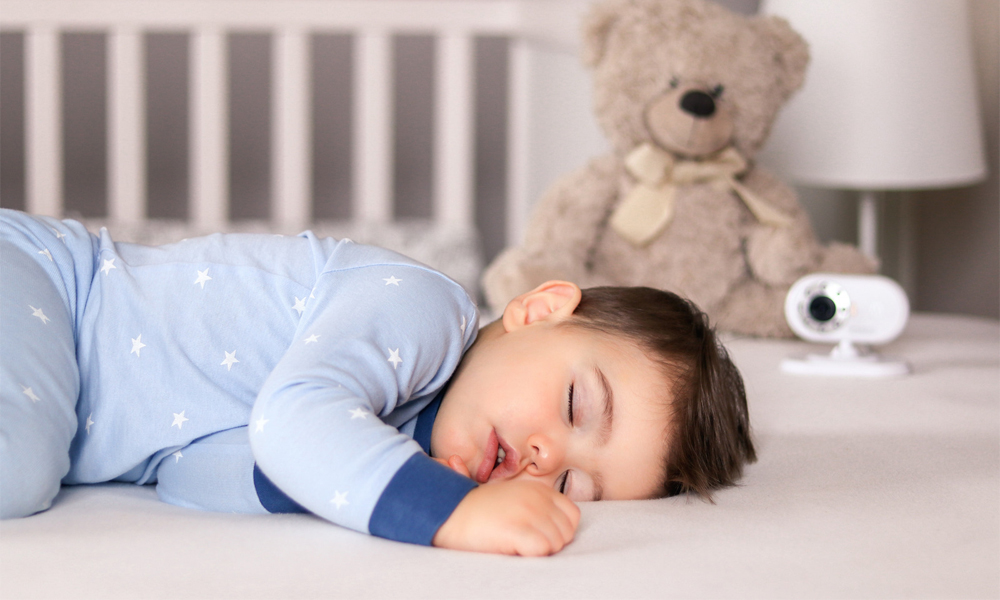 As the baby is sleeping in another room, some parents, especially the new ones, might get anxious about the child's well-being. Hence, to avoid the hustle of going back and forth to check on the baby, get a smart baby monitor. Many advanced technologies were invented to make the life of the parents easier. Below are the benefits of implementing an intelligent baby monitor:
Monitor the breathing rate of your baby.
Monitor your baby's motion with high-quality visuals and audio.
Analyze the sleeping pattern of your baby – what time they usually wake up.
7. Blackout Curtains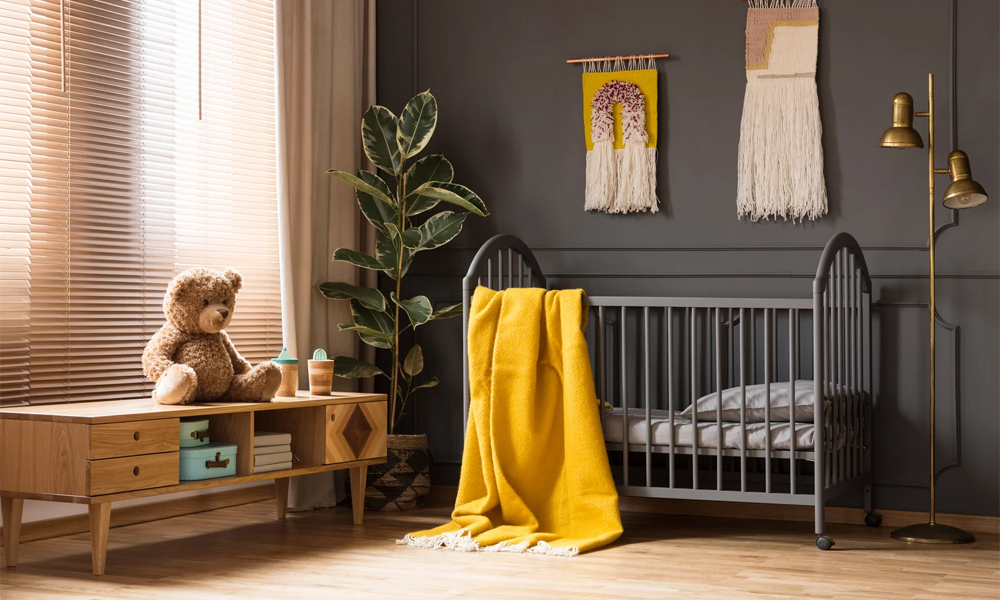 As mentioned earlier, a baby spends most of their early days of life getting sufficient sleep for continuous development. Hence, the presence of blackout curtains is also necessary for providing the best nap time for your baby as it imitates the nighttime. Get high-quality blackout curtains that are capable of blocking the sun during daylight.
8. Hazard Free
Baby's milestones like crawling, baby-stepping, walking and running. Therefore, having a baby in your home means every furniture, appliance, and decoration needs to be hazard-free to avoid unnecessary incidents like bumping or choking. Buy or DIY latch cover to every door or corner of the walls and install a child safety drawer lock. You need to ensure that everything is safe for your baby.
9. Design for the Future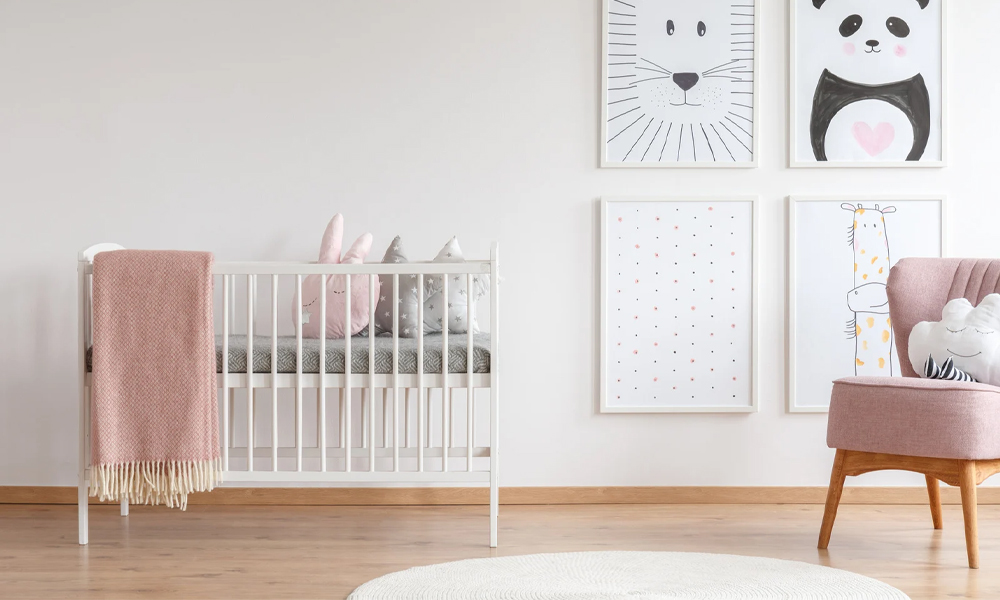 Eventually, your baby will grow to a teenager and young adult; hence the room should be designed to grow with them. Avoid pasting too many decorations or stuffing the room with the baby's furniture. Go for inexpensive furniture so that you would not feel bad transforming the space in the future. Aside from that, one of the benefits of providing a room since babies will get used to sleeping independently.
10. Parent's Corner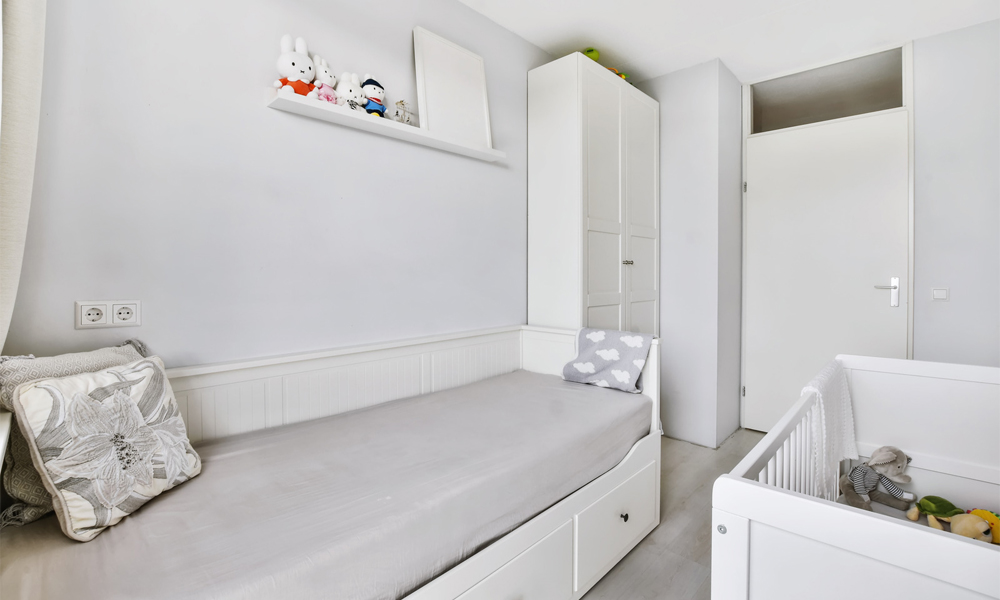 Providing a specific corner to place a bed or resting area for the parents is one of the points that need to be taken into consideration. Some babies might take time to put asleep and most parents spend most of their monitoring the children. Hence, placing a sofabed is one of the great ideas for the benefit of the parents.
Deciding the best for your baby is not an easy task. Hopefully, this article gives some ideas in determining the best nursery room for you and your beloved ones. If you are looking for the best place to consult regarding home furniture, feel free to contact us or visit our physical store located in Kota Damansara upon appointment.
Address: Lot 1-03, I-Residence, Persiaran Surian Seksyen 4,
Kota Damansara, 47810 Petaling Jaya, Selangor
Operating hours: Mon-Fri, 10 am – 10 pm
Contact numbers: 03-78903019/ 6011-27058270
Are you looking for new wardrobes or other furniture for your home or interior design project? Check out this amazing furniture website! www.tekkashop.com.my



Contact us to find out more
Customer enquiries:
Phone: +601120641106
Email: admin@tekkashop.com.my
For more stories like this, join our Facebook community on Facebook
Need help with your order? chat with us here
About Author
Fatiha
Fatiha is a freelance content writer who specializes in commercial writing, love travel and enjoys walking on the beach.