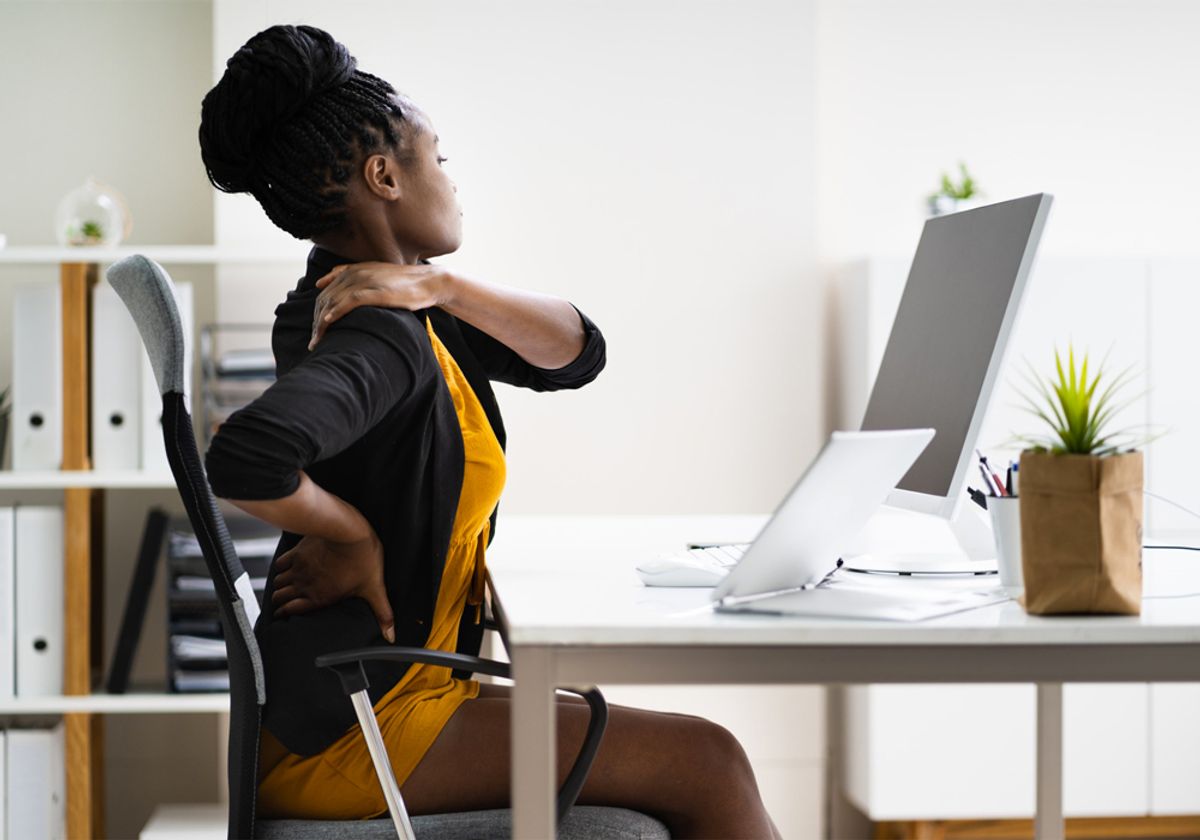 Sitting in the same position for extended periods may cause you to experience a stiff sensation in your muscle. Poor posture can harm your physical health and lead to severe issues like improper circulation, slipped discs, and acute lower back pain.
Definition of Back Pain
Back pain is a condition where you feel discomfort in the back area of your body caused by an injury to the muscle. A few conditions commonly linked to back pain issues – are muscle strain, ruptured discs, and arthritis.
Muscle Strain: The repeated habit of lifting heavy items in the wrong position can cause strains on your back muscles and spinal ligaments.
Ruptured Discs: Discs' primary function is as cushions between the bones in the spine—the soft tissue inside the disc ruptures, which causes pain to the affected area.
Arthritis: Arthritis usually occurs in inflammation in areas where your bones meet and move, typically called joints. The pain may cause discomfort to bend your joints; they can be mild and severe to some people – depending on the individual's tolerance to pain.
Common Unhealthy Posture Habits
We may not realize that bad posture habits typically occur in daily activities like walking, sitting, standing, bending, lifting, and laying down. A sedentary lifestyle or lack of active physical movement can also cause more stress and pain to develop back problems. Below are among the everyday unhealthy posture habits you may perform:
Slouching or slumping your body while sitting on an office chair
Doing work on your bed with no proper sitting posture and table
Standing on one leg – putting all the weight pressure on one leg is terrible for your back health
Hunching your body forward while gardening
Lifting heavy objects off the floor by bending your back
Habits to Improve Your Posture
With correct sitting habits, it is possible for patients who suffer from back pain issues to reduce and manage some symptoms at home.
Using Ergonomic Office Chair: The ergonomic office chair is tailored to your body curve and weight. Its function is to provide great comfort for extended hours of sitting. Usually features lumbar support to reduce the risks of developing back pain, adjustable armrests, and height to tailor to your needs.
Practice Proper Posture: To maintain the health of your back, it is essential to practice proper posture while sitting and standing up. Avoid leaning on one leg, sticking your bottom out, and standing with a flat back. Moreover, an excellent way to sit down is with your back and shoulders straight and your bottom touching the back of the chair.
Stretch Up and Exercises: Practicing stretch-ups and a few easy exercises like shoulder blade squeeze, upper-body stretch, arm-cross-chest stretch, and imagery can help improve your body posture.
Introducing Our Products to Assist with Better Lifestyle
This backboard provides adjustable lumbar support that aids posture improvement and relieves strain on the spine while sitting. The product is ideal for those who spend long periods working in a seated position. The backboard functions by applying light pressure over the knee bent into any desired shape to tailor it to fit the unique curvature of your back.
The backboard posture corrector minimizes the load on your back and stops prolonged stresses from sitting in a slumped position. It comes with a cooling pad to provide extra comfort and an elastic strap to ensure the backboard stays intact.
---
Product Specification:
Product function: Adjustable Posture Corrector Backboard
Product dimension: Free Size
Product colors: Black, Silver, Blue, Pink, Purple, Orange
---
The Flexi Core Spine Posture Corrector ensures that your spine is in the correct position and engages the core. Do you realize that our body tends to be naturally slouched forward when standing and sitting up? Hence, the Flexi Core Spine is designed to restrain your body to hold a healthy and natural posture. The straps are adjustable for maximum comfort and are made of soft-touch anti-microbial fabric that is practically invisible when used under clothing. The posture corrector prevents stooping by gently pushing back the shoulders and aids in the promotion of good muscle memory. Using the product can train your body to adopt a better healthy posture even when not wearing the posture brace.
---
Product Specification:
Product function: Back Support Brace
Product dimension: Junior (71cm-81cm), Small/Medium (81cm to 91cm), Large (91cm to 121cm)
Product color: Grey
---
The Spine Solution Support Brace is designed to relieve lower back pain by supporting the spine. It also provides your back to recuperate and allows your muscles to rest. The brace is made of sanitary anti-microbial breathable material, and a thermal foam inside portion allows for adequate air circulation to keep you cool and comfortable. Easy to use with elasticated sides and a velcro fastening to ensure a comfortable and supportive fit.
---
Product Specification:
Product function: Back Support Brace
Product dimension: Small (up to 82cm), Medium (82cm to 91cm), Large (91cm to 135cm)
Product color: Grey
---
Slouching your neck by 30° adds a burden to your channel and will eventually negatively impact your natural body posture. Hence, the Neck Helper comes to the rescue by providing an alternative to alleviate neck pain and restrain your neck muscles. Hypoallergenic, breathable material is used to ensure the product's ultimate comfort. Rather than sweaty support, the Neck Helper provides something compelling and, most importantly, pleasant. It is practically invisible when worn under clothing.
---
Product Specification:
Product function: Neck Support Brace
Product dimension: Small (up to 33cm), Medium (33cm to 43cm), Large (43cm plus)
Product color: Black, Blue
---
At Tekkashop, we promote a healthy and good lifestyle by implementing it in every product. We believe that a good environment can lead to a happy life. Hence we offer extensive choices of products to cater to your healthy lifestyle and premium furniture to incorporate into your home.
Looking for new wardrobes or furniture for your home or interior design project? Check out this amazing furniture website! www.tekkashop.com.my
Contact us to find out more
Customer inquiries:
Phone: +601120641106
Email: admin@tekkashop.com.my
For more stories like this, join our Facebook community on Facebook
Need help with your order? Please chat with us here
About Author
Fatiha
Fatiha is a freelance content writer specializing in commercial writing, loves travel, and enjoys walking on the beach.