Many have started recognizing the health benefits of a reclining sofa, such as reduced back pain and improved blood circulation. Apart from that, it provides reasonable assistance with standing and sitting at ease which is very beneficial for any individual with physical disabilities and the elderly.
The advancement of technology of reclining sofa has evolved over these past few years, from a motorized, manual and custom made. There are myriad options and functions of reclining sofa available in the market. Hence, keep reading this article to find out more about the different types of recliner sofas.
Things to Consider Before Purchasing a Recliner Sofa
The Size of the Room: One of the essential aspects that need to be considered before you purchase any of your desired recliner sofa designs is to ensure the measurement of the sofa matches the size of your space. Measure the couch while fully reclined to ensure it does not take up most of the room.
Function: Buying a recliner sofa is like an investment for your comfort and
Fabric Options: Most of our reclining sofa is custom made; therefore, you have extensive choices in covering your recliner – fabrics and leather. Pick any material that suits your preference and needs.
The Size of Your Body: Another important point to consider before deciding is to ensure that the sofa fits perfectly on your body. The primary purpose of a recliner sofa is to provide ultimate comfort
1. Pull Handle Recliner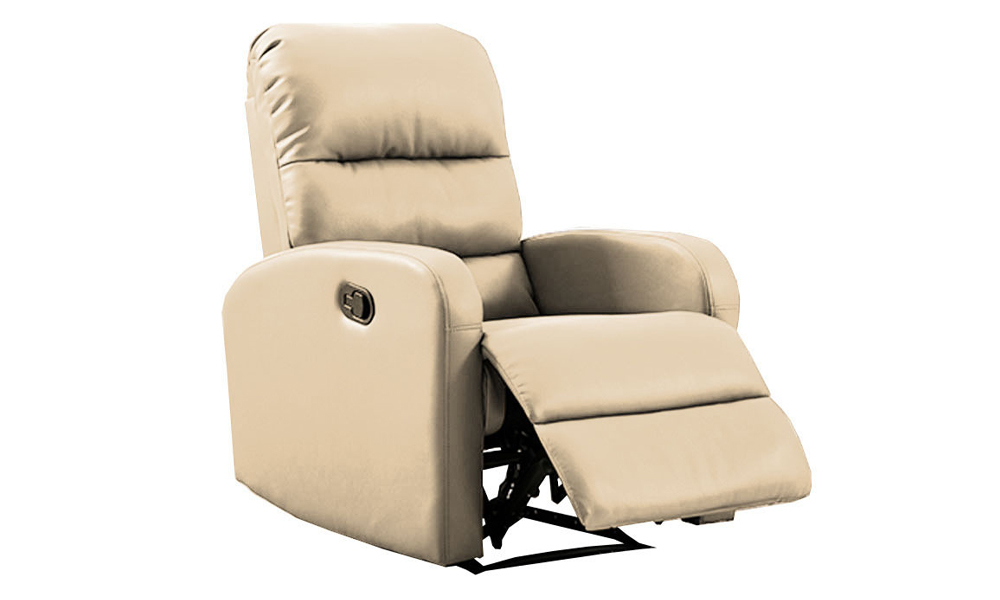 The pull handle recliner is one of the basic functions of a reclining sofa. The pull handle is commonly placed on the right side of the armchair, and it triggers the recline function of the couch. Once pulled, the footrest and backrest will rise to the reclined position. Usually, the pull handle recliner comes as a non-motorized; therefore, you need to push the footrest to make it back into a locked position.
Our option for this type of recliner sofa is Tekkashop GDSS1560 Single Seater Leather Sofa Recliner Armchair Lounge Chair. The sofa highlights a slim type of single-seater recliner sofa that goes well with a limited space interior. So, if you have a limited size living room, this recliner sofa is the perfect option. The product is made with a PU leather cushion and a strong metal mechanism.
---
Product Specification:
Colour: Beige, Light Brown, Dark Brown, Red, Black
Applicable Occasions: Living Room
Material: PU leather
Dimension: 93cm x 71cm x 99cm
Internal filler: high-density sponge
Frame: Metal Skeleton
Weight: 30kg
---
2. Wall Hugger Recliner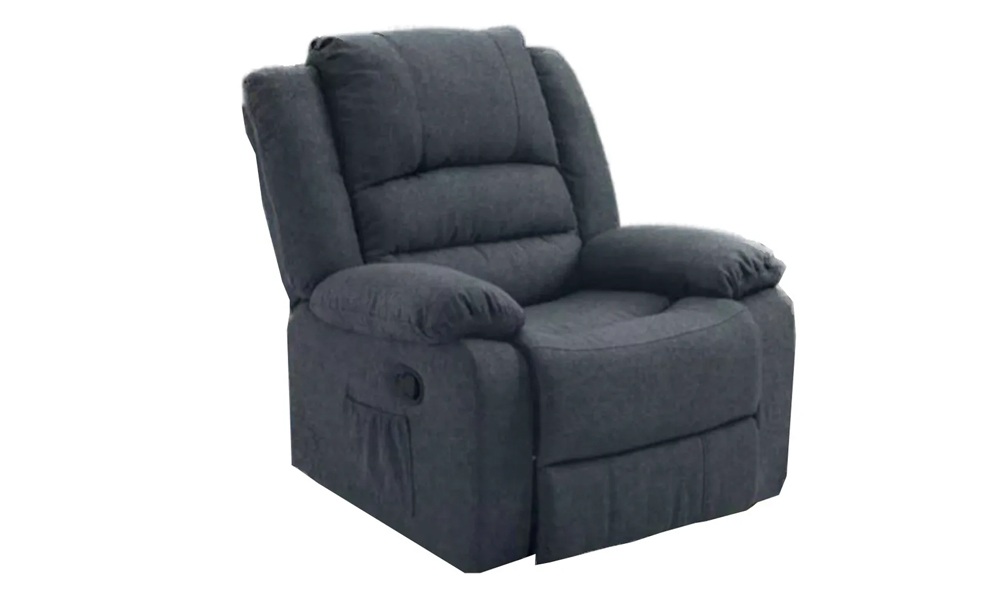 Another type of recliner sofa is the wall hugger recliner which is designed to fit perfectly into smaller spaces without needing space behind the chair to recline.
The Tekkashop FDRC1767GY Modern Style Fabric Cushion Single Seater Recliner features a simple design and reclined footrest. The sofa is made of a fabric cushion seat, which makes it very comfortable.
---
Product Specification:
Product Function: Single seater recliner system lounge chair
Product Material: Fabric Cushion
Product Dimension: W930 x D980 x H1030 mm
Product Color: Grey
---
3. Swivel Recliner
The swivel recliner is designed to allow the chair to turn 360 degrees to face any direction you desire and recline backward. A swivel recliner sofa is a perfect option for those who live in a limited space but want to be able to move your chair effortlessly.
The Tekkashop FDRC2460LGY Industrial Style 360 Degree Swivel Recliner Chair Sofa comes with a stool to rest your feet at ease. The chair is made of regular foam upholstered with premium fabric that can create ultimate comfort when used. Most importantly, it have a locked and tilt angle backrest adjusted recline mechanism that allows you to adjust the chair contour according to your preference.
---
Product Specification:
Industrial style recliner home office chair
Light Grey color
360-degree swivel base
locked and tilt angle backrest mechanism
Material: Leather finishing fabric + normal foam
Product dimension:
Chair: L 73.5 x W 82.5 – 107 x H 92.5 – 104 cm
Stool: L 41.5 x W 45 x H 41 cm
---
4. Push Back Recliner Sofa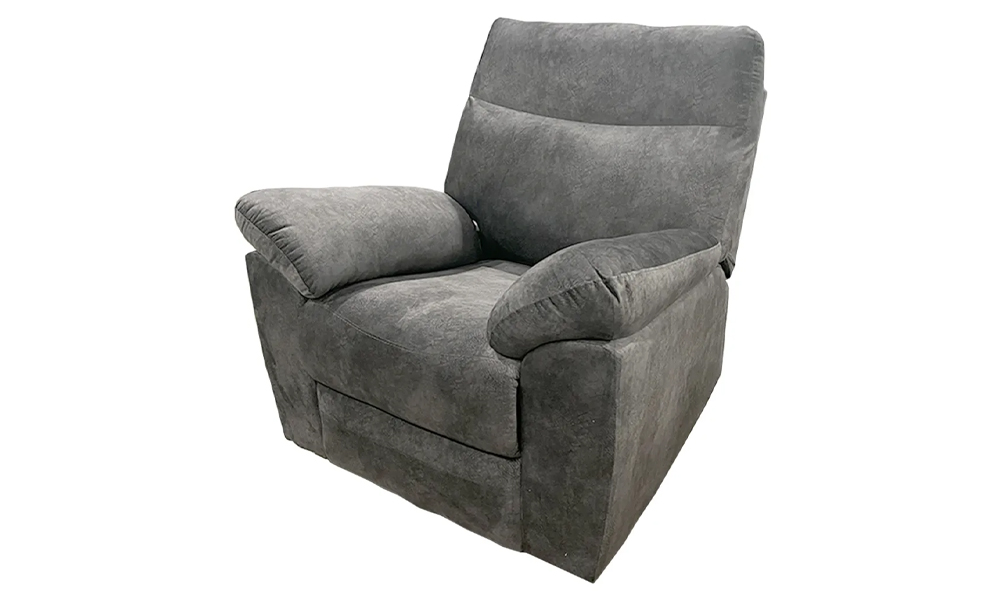 The function of a push-back recliner sofa is quite similar to a wall hugger recliner in that it slides on a track. If you like to incorporate a recliner sofa into your interior but do not like the sofa's bulky appearance, you can opt for this type. Push back recliner sofa is designed to blend in with the interior. When not reclined, the couch will transform into an everyday armchair.
The Tekkashop GURC1660GY Fabric Recliner Sofa comes in a manual mechanism. The product is upholstered with high-quality velvet fabric and can be easily clean with fabric cleaner spray. The recliner sofa features 170 degrees recline position.
---
Product Specification:
Product feature: manual single-seater recliner sofa
Product material: High-density sofa foam, metal frame, velvet fabric
Product color: optional
Product dimension: Seat Width 550/ W820 x 840 x 1040 mm
---
5. Power Recliner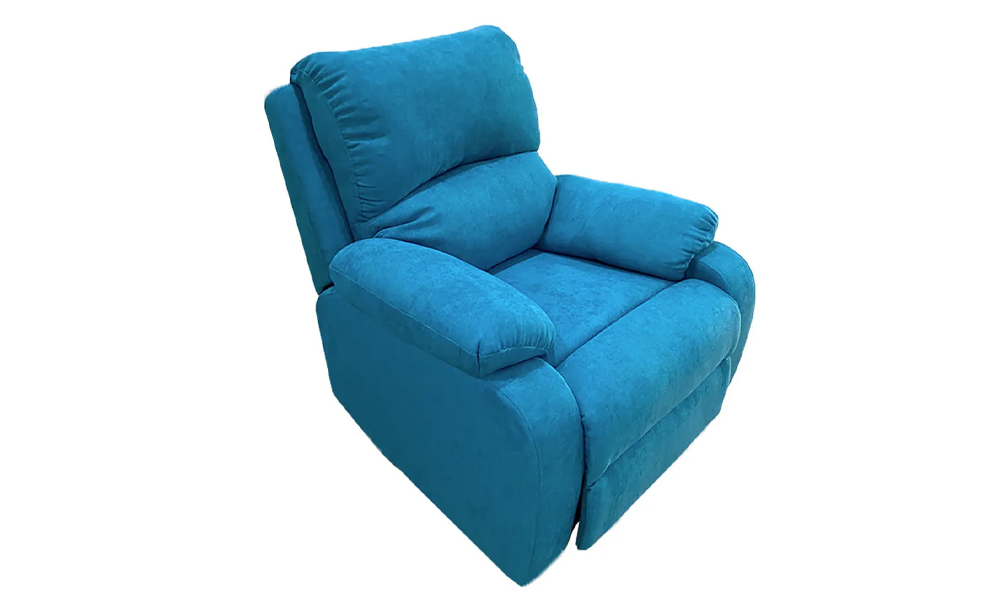 Generally, there are two types of recliners – manual and motorized. The power recliner sofa uses motorized electricity for the recline function and is recognized to have more advanced features – touch screen technology, infinite positioning, power massage, and a USB port. A power recliner sofa typically uses electric motors to recline and incline the push button.
Our personal choice for a power recliner is the Tekkashop GDSS1750GY Electronic Motorised 1 Seater Fabric Recliner Sofa. This recliner sofa comes in the option to have a manual mechanism or an electronic powered motor. The motorized is designed for the elderly, with a button-control reclining feature it ensures safety for the senior when opening and closing the footrest. The sofa also features a USB charging port for you to charge your phone while sitting on the sofa.
---
Product Specification:
Product Feature: choice of mechanism (manual or motorized recliner)
Product material: High-density sofa foam, metal frame and recliner motor, velvet fabric
Product color: optional
Product dimension: Seat Width 550/ W820 x 840 x 1040 mm
---
6. Lever Handle Recliner
The lever handle recliner is one of the iconic and traditional mechanisms in the reclining sofa. Typically, lever handle recliners use a plastic handle to pull and trigger the reclining mechanism. Pulling the lever reclines the backrest and raises the built-in footrest.
The Tekkashop IARC3300GR Manual Adult Hospital Reclining Chair with Levered Leg Rest is convenient and straightforward to operate with less complicated handling methods. This manual recliner chair is suitable for people to rest at any time and a good piece of furniture to assist those with disabilities. The sofa is upholstered with PVC, covered with PU foam, and comes with wheels.
---
Product Specification:
Product Function: manual recliner chair
Product Material: PVC covered with PU foam
Product dimension: W 855 x D 880 x H 970 mm
Product Color: Grey
---
7. Power Lift Recliner Sofa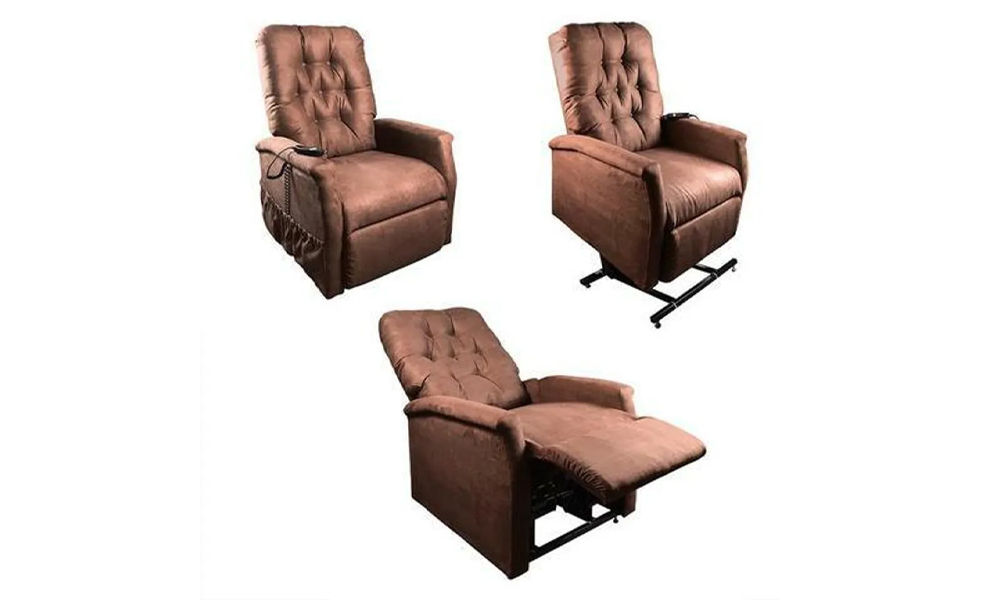 Another advanced technology of reclining furniture is the power lift recliner sofa. The power lift chair is designed to assist those who have difficulty in getting in and out of furniture – elders and pregnant ladies. The chair provides assistance in getting out of the chair quickly.
In our collection of reclining sofas, the Tekkashop IALC4916BR Hospital Electric Reclining Lift Chair with Smooth Arm Sleeves is the perfect option. The chair provides a stable way to help you get up after resting on the chair. The chair lift mechanism has a remote control to put the chair down and a button to raise the back of the chair to help you in a standing position. The easy-to-operate hand control has a spare battery that can lift the recliner.
---
Product Specification:
Product Function: Electric Reclining Lift Chair
Product Material: hardwood structure, with T-nuts
Product dimension: Full Dimension: D 483 x W 762 x H 635 mm
Seat to Head: 635 mm
Seat Depth: 483 mm
Floor to Seat: 483 mm
Inner Width: 534 mm
Outer Width: 762mm
Recline Degree: ~40 Degree
Maximum User Weight: 180kg
---
8. Big and Tall Recliner Sofa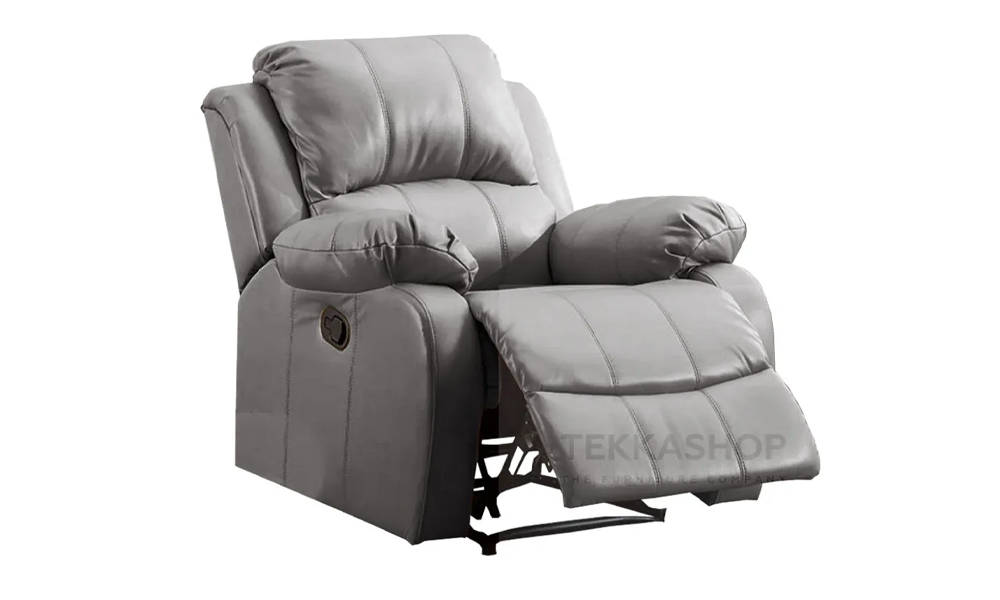 The big and tall recliner sofa is designed to give comfort in that extra size of furniture. This type of sofa is created to be able to hold more weight than a standard recliner. One of the best benefits of purchasing this type of recliner chair is it gives the sense of a hug to your body.
The Tekkashop GDSS1780GY Single Seater Leather Sofa Recliner has a thickly padded seat and wide arms for the ultimate comfort. The sturdy ergonomic seating is beautifully finished with PU leather, adjustable recline backrest, and footrest.
---
Product Specification:
Colour: Grey
Applicable Occasions: Living Room
Material: PU leather
Dimension: 90cm x 85cm x 100cm
Internal filler: high-density sponge
Frame: Metal Skeleton
Weight: 33kg
---
How can we help you?
Choosing the perfect furniture that suits your taste, preference, and needs is undoubtedly not an easy task. Many criteria, such as material, size, and design, need to be considered before deciding on your purchase. Going through a meticulous process when picking out a piece of furniture can help prevent future regrets. Therefore, here we come to the rescue! Take a look at our recliner sofa collections to get a wide range of modern and classic designs.
While discovering and researching the perfect one, look at the Top 10 Recliner Sofa Brands in Malaysia 2022.
Stepping up your home to a better one and deciding what elements to incorporate is undoubtedly not an easy task. I hope this article 'The Ultimate Guide to Types of Recliner Sofa in Malaysia 2022' will give you some ideas for revamping your space. If you're looking for a place to buy home and office furniture, feel free to visit our website or walk into our physical store located in Kota Damansara upon appointment.
Looking for new wardrobes or furniture for your home or interior design project? Check out this amazing furniture website! www.tekkashop.com.my

Contact us to find out more
Customer enquiries:
Phone: +601120641106
Email: admin@tekkashop.com.my
For more stories like this, join our Facebook community on Facebook
Need help with your order? chat with us here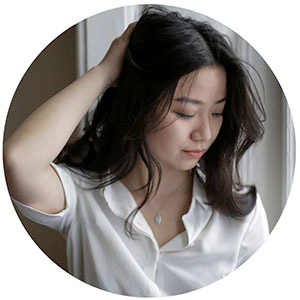 About Author
Fatiha
Fatiha is a freelance content writer specializing in commercial writing, loves travel, and enjoys walking on the beach.