Top 10 Best Affordable Ergonomics Chair Under RM 300

HOW WELL HAVE YOU TAKEN CARE OF YOUR BODY POSTURE ?
Do you ever think about how many hours of your life have been spent sitting in chairs or even count the hours sitting down? If so, the number is surely shocking. Millions of people are sitting in badly designed chairs or in a position that can cause chronic back pain and undue suffering. Ergonomics is about designing for our posture. Whether you are buying an ergonomic chair to support your back or taking steps to improve your posture, knowing proper techniques and proper chair design will help you improve your back's health.
Good body posture is very important to maintain, both at home and on the job. Back-friendly posture is a valuable component of preventing or managing back pain while performing any activity. With incorrect posture while standing for long periods of time, sitting in an office chair and driving are all common causes of back pain and could also involves bad blood flow, resulting numbness in parts of our body.
You may think that sitting down does not involve any major injuries and think it as one of the most relaxing positions. However,the truth is, we are putting major pressure as the back muscles are continuously working to maintain the body in an upright posture while sitting. For those who sit in an office chair and work for long periods of time at a computer in a hunched forward posture, the structures in the back suffer considerable strain.
Here are the top 10 best affordable Ergonomics chair under RM 300 :
1. Tekkashop LBGC423R Ergonomic PU leather Gaming Chair Cyber Cafe Computer Office Chair - Red

This is one of the finest model of ergonomics chair. It comes with multi-directional ergonomic design, armrest adjustment for comfort. Combined with good quality of PU leather for quality and to give some premium touch to it.
It can be adjustable according to your suitable height of your seating and your arm cap. It also has a built in reclining mechanism to allow 90-degrees to 150-degrees backwards and forwards titling movement. Perfect for when you want to lay back and take a nap from your work as it came with a removable headrest pillow and height adjustable lumbar cushion. Durable 360° casters or the simulation wheels could bring you the real racing experience, also make it very easy to move the chair around on any surface such as tile, carpet, hardwood, concrete or even linoleum. Firm, storable, safe and quiet Metal Frame. A durable metal frame structure helps to ensures durability for years to come
Sitting height: 59-67 cm ; Backrest dimension: W54 cm x H80cm ;
Seat dimension: W38cm x L48cm
2. Tekkashop FSMT719BL Extra Comfort High Back Ergonomic Mesh Home Office Chair (Black)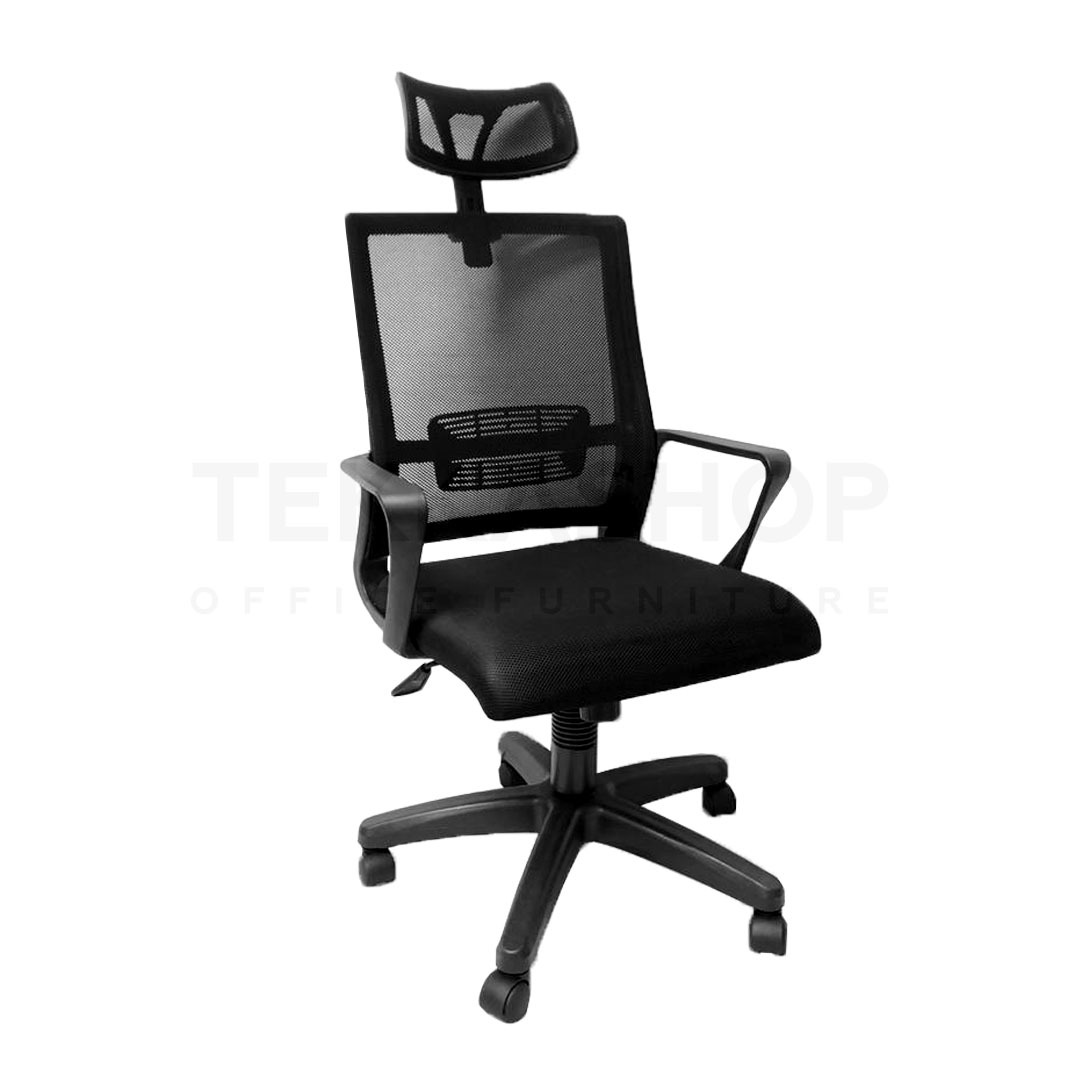 RM298.67
By the looks of it we know it is a comfortable chair as the chair has a unique design of tilted backrest which is perfect for relaxing during your busy working time where it has the access to adjust angles to enjoy the leisure functions. It comes with quality mesh fabric for superior comfort for your back and spinal column.
It is perfect to decorate your home office, corporate board room with this chair. It comes with ergonomic design for more efficiency and comfort combined with 360° multi-direction wheel moves smoothly on floor and adjustable height.
Durable, breathable and easy-to-clean fabric
Comfortable fabric
Comfortable and Good Support
3. Tekkashop LTOC0317 Contemporary Low Back Mesh Office Chair Padded Foam Seat Chrome Base with Castor

RM 272.00
Although as simple as it is this office chair has its uniqueness when it comes with a low backrest, ergonomic design that helps to support your back as the backrest design is curved perfectly that lines up to the human body line and support the natural curve even when your laying back or stretching out.
The backrest contains mesh material designed fully at the back which allows for better air circulation and easy to clean. The chair also comes with 360° chrome frame and castors wheels that assure stability and sturdiness. All in all, it has stunning features that make it a great selection worth buying
4. Tekkashop LBOC0327 Adjustable Height Mesh Fabric Office Chair / Computer Chair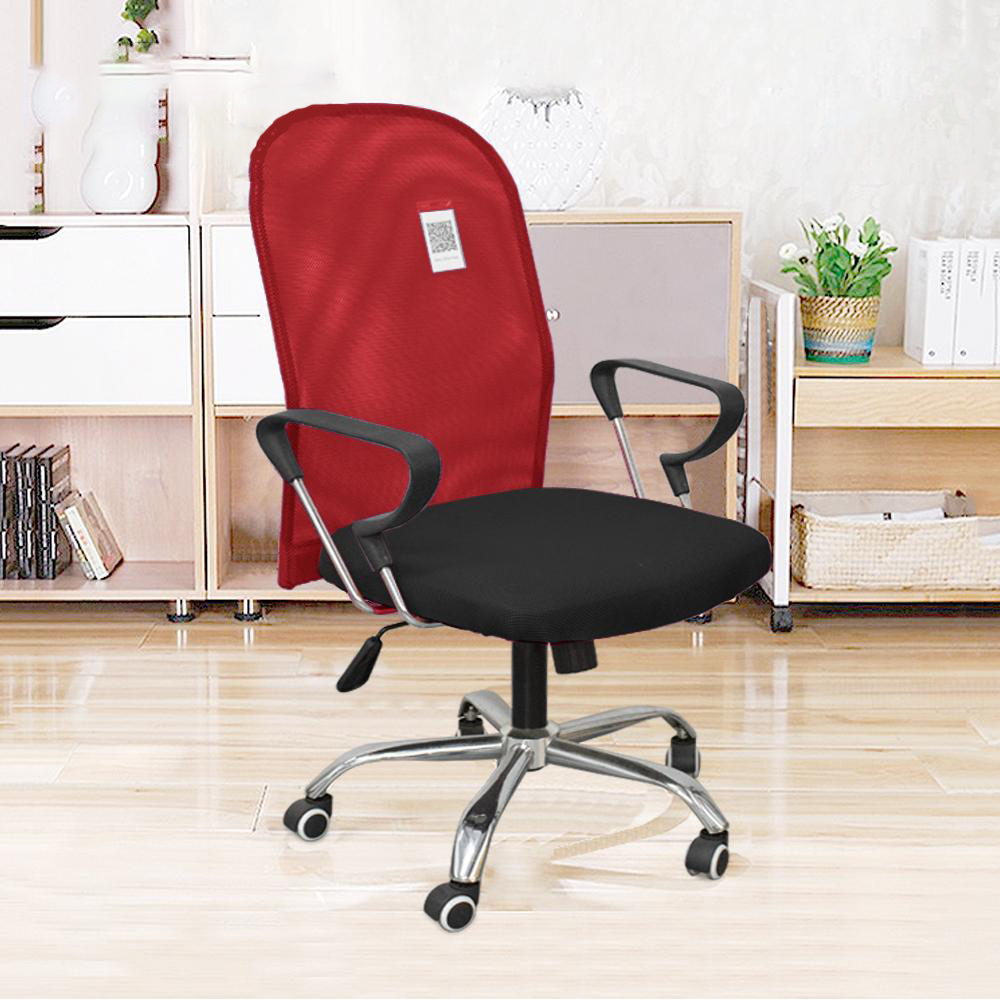 RM280.00
If you are working in an office, when you look to all ergonomic chairs, they pretty much look the same. However, for this Tekkashop LBOC0327 comes with a unique selection of colors to choose from purple, black, red, green, orange or blue. High quality breathable mesh and soft plush cushion are constructed to give you the ultimate comfort with good price. Excellent for maximum comfort while working , reading, meeting or even play computer games. It features are well design to follow for the comfort of our backbone poster. It also gives strength to the waist, elegance is unparalleled, the healthiest waist care curvature. It has swivel function which you can rotate the chair in 360 degrees and also adjustable height to suit your preferred height.
5. Tekkashop FCDL100A Modern Height Adjustable Swivel Office Chair with Chrome Castor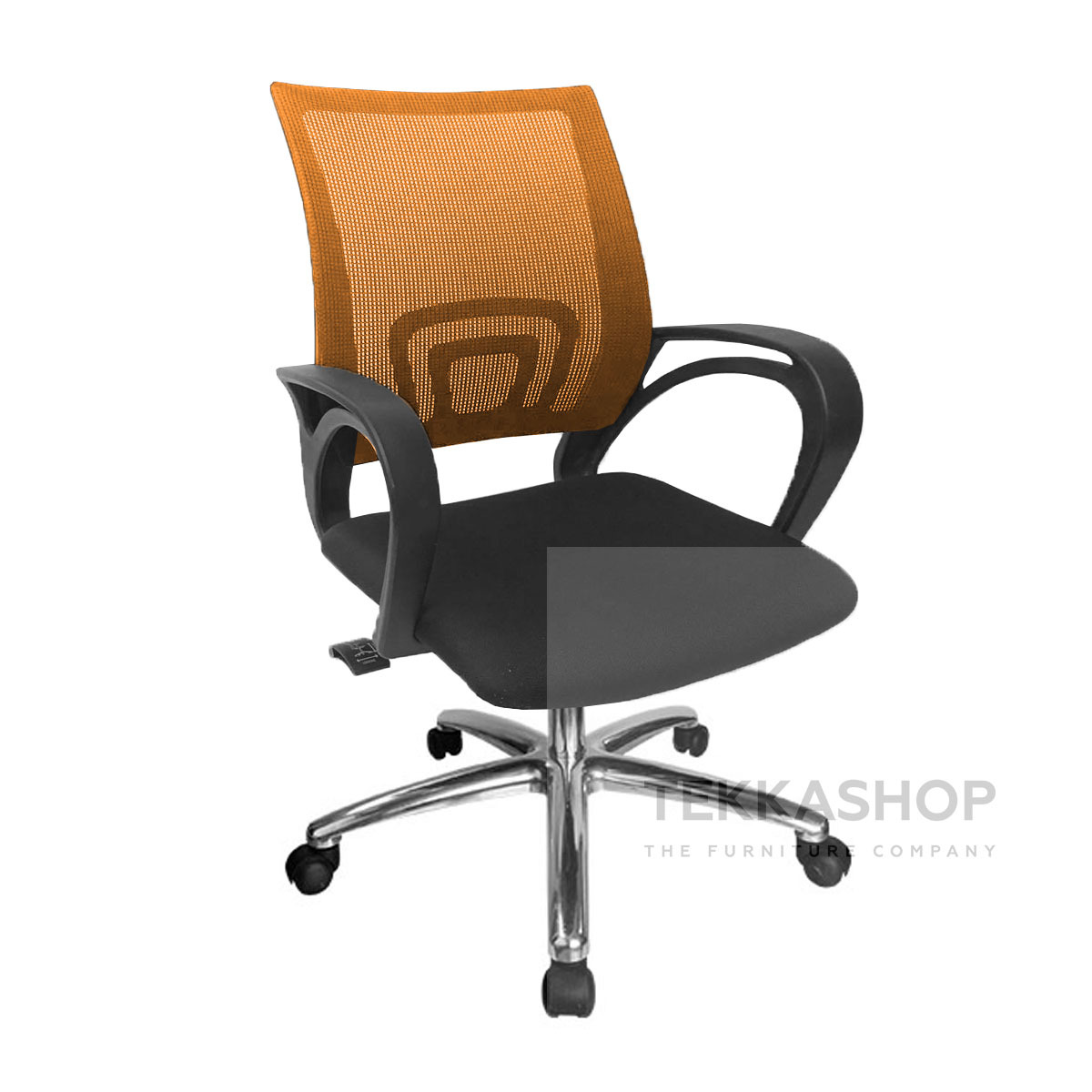 RM 199.35
Featured with vibrant choice of either black, grey, orange, red, blue mesh back ergonomic chair body and. Say goodbye to lower back pain and take a rest from those long working hours and relax with this chair as it has high medium back which helps to give support and provides comfort.
The design of this chair is very clean, modern and it sets a smart tone. Very easy to clean as it is made from a very good quality mesh added with thick sponge cushion and high density "moulded" injected foam . Very suitable for the executive office, meeting room, college, institutes or hotel.
6. Tekkashop LBOC0277 Adjustable Height High Back Mesh Office Chair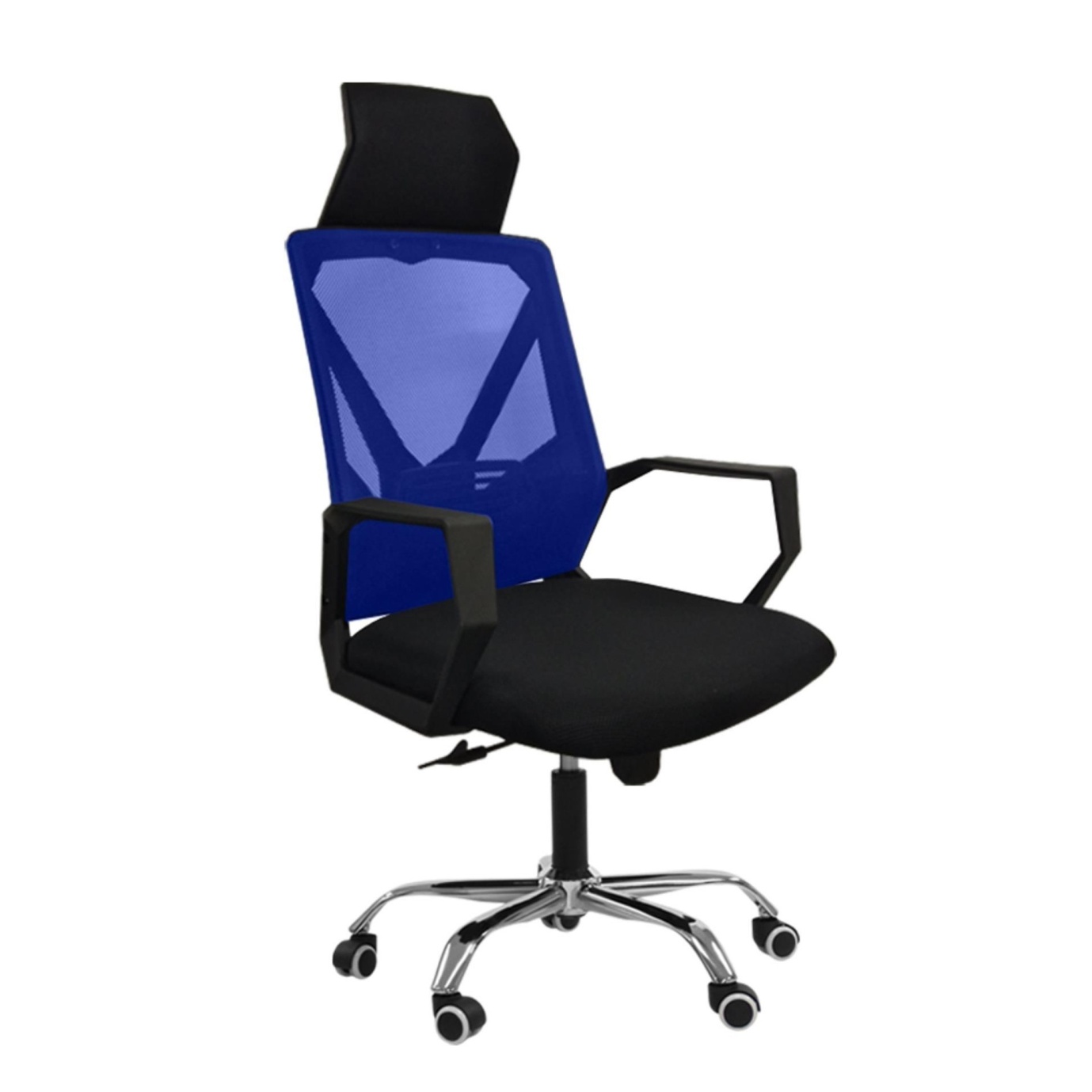 RM238.00
A good office chair should provide support to your back and lumbar regions. Our back requires good support to prevent issues like backaches, cramps, soreness or even migraines. This Tekkashop LBOC0277 high back mesh chair with ergonomic designed does the trick with affordable price suitable for home or office use.
Also comes with 6 vibrant colours that will sure give more option to match the office environment. Designed with 3D back rest that support the curves and support combined with the streamlined arm rest makes the design worth it.
7. Tekkashop FSDL100B Modern Height Adjustable Swivel Office Chair
RM173.03
There is nothing wrong in adding a little touch of elegance to the collection. Same goes for chairs, here we found this beautiful model of Tekkashop FSDL100B medium back which comes with an adjustable ergonomic desk chair and curvy arm rest. An excellent chair for workplaces like home, office, conference room and reception room. Noiseless superior ABS material rollers to protect your floor and it can rotate 360 degrees to help you finish your work easily. The fine quality of the chair treats users a new level of comfort at busy work with reasonable price suitable for shopper whom focuses on quality and price.
8. Tekkashop KROC0332-BL Adjustable Height Mid Back Breathable Mesh Office Chair / Executive Chair with Headrest - Black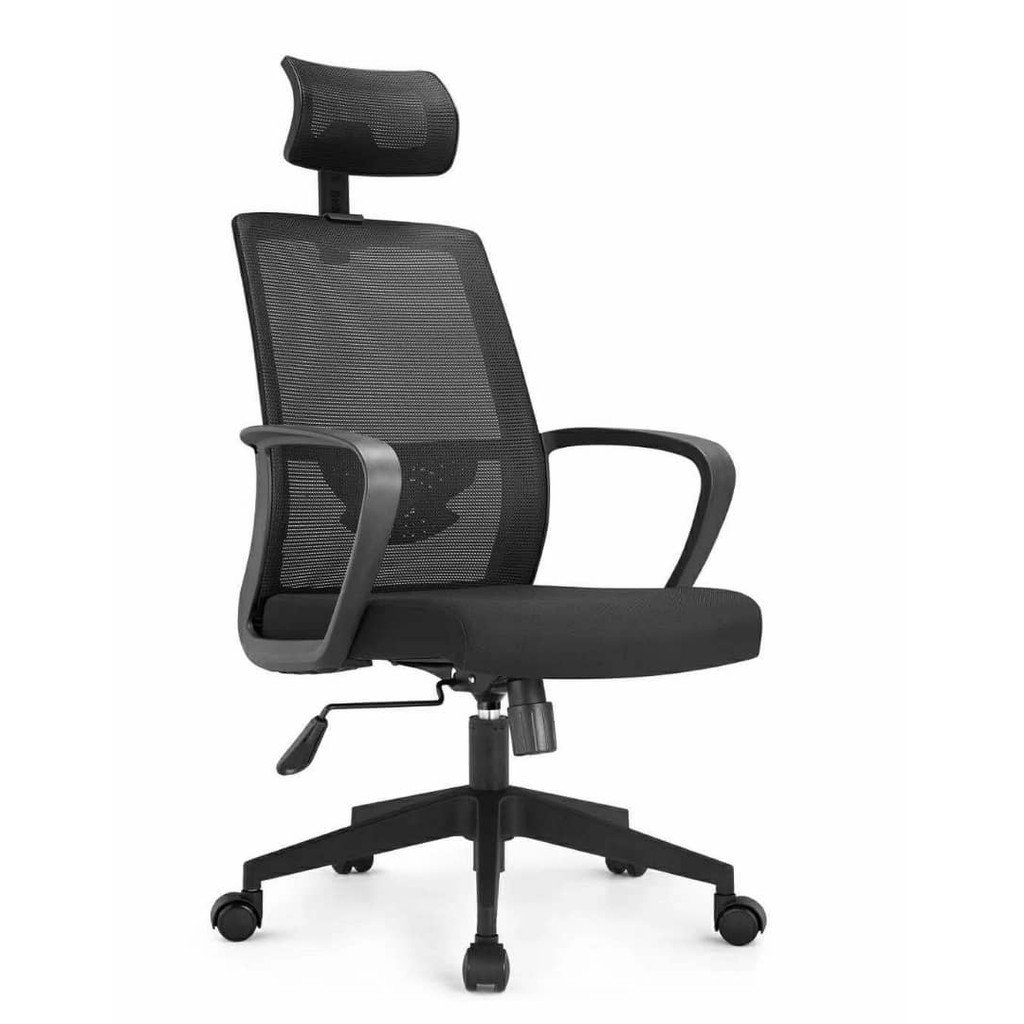 RM 284.30
When it comes to good quality and good service, say no more to the Tekkashop KROC0332-BL High Mid Back Mesh collection as it is built straight from the factory to the customers. It is built with care as it is carefully designed to fit the average person, providing great comfort and ensuring a proper sitting posture at all times.The chair not only gives a proper support but also gives relaxation to the back and reduces further pain due to long hours of sitting down.
Much work had been done to achieve the ultimate comfort for this design with the best quality of cooling breathable mesh that gives constant airflow keeps you cool, and mesh is a good-looking and modern style. Matching jet black nylon leg gives style and provides sturdiness.
9. Tekkashop TNOC245BL Mid Back Broadroom Mesh Home Office Chair (Black)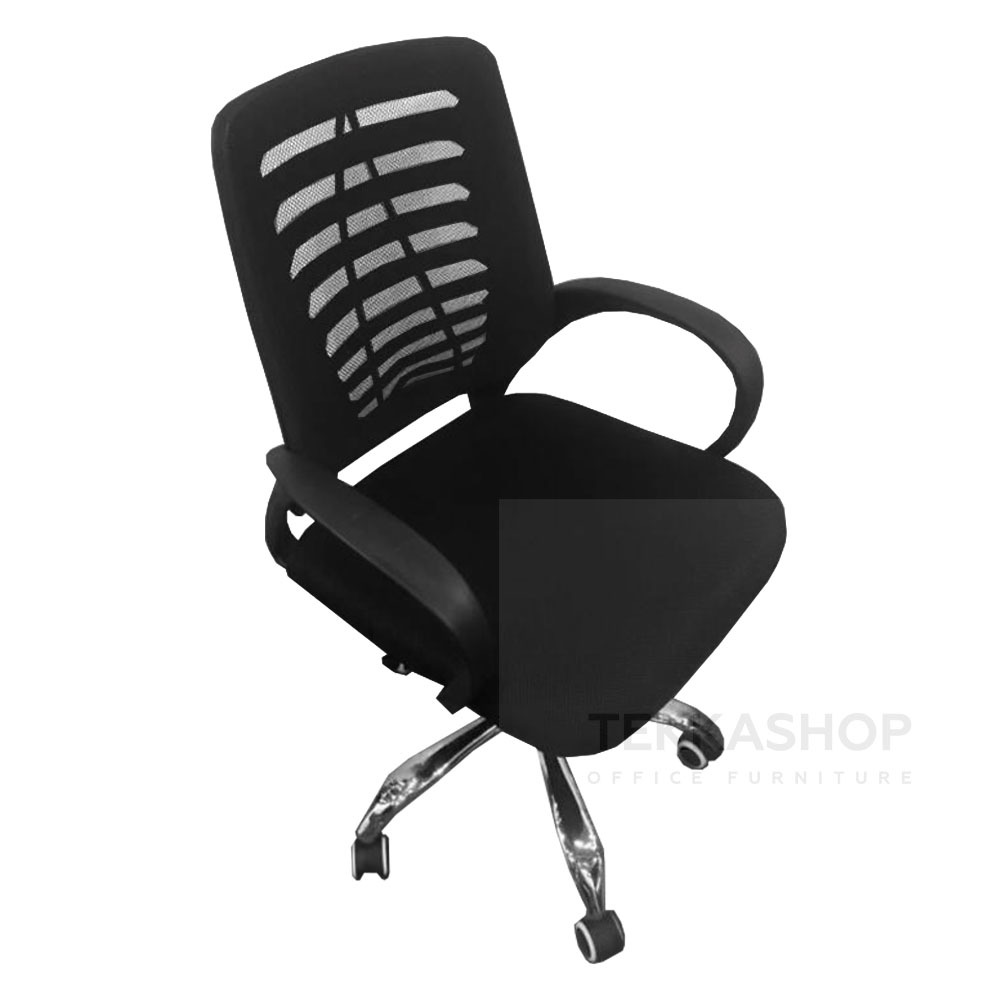 RM 266.00
Initiating a good investment could be a tricky decision to make as what we wanted is to have good quality and long lasting product. As for this Tekkashop TNOC245BL mesh mid back chair helps to do the trick for office working chair. Comes with an affordable price and good quality mesh and standard characteristics of an ergonomic chair. Also attached with strong durable polypropylene base that gives extra stability and support to the weight. Superior ABS are constructed for longer durability and 5 castor wheels give easy access to move around.
10. FDOC0315BL Mesh Office Armchair with Chrome Base – Blue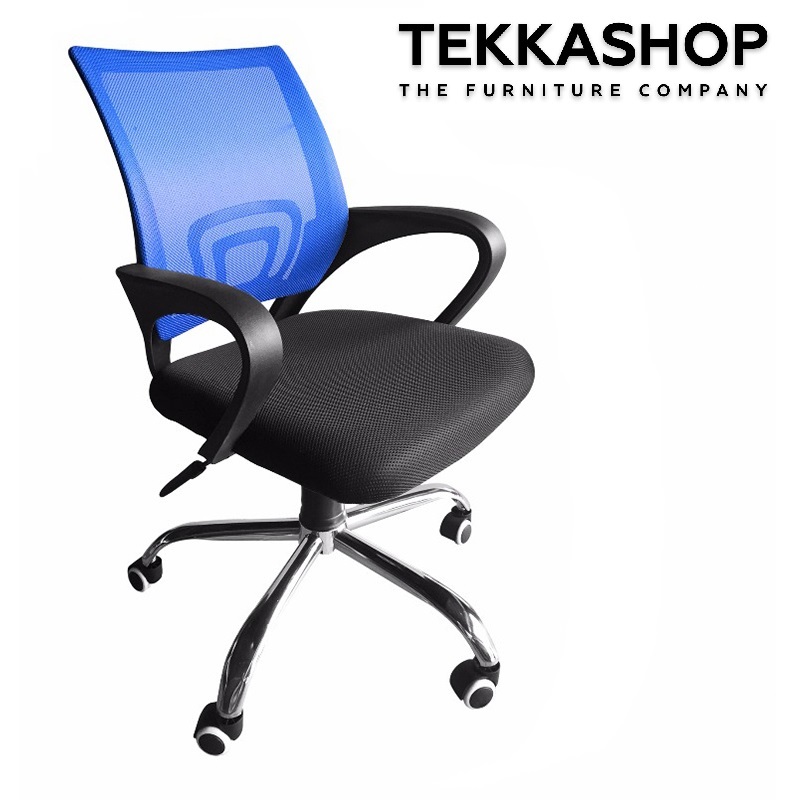 RM 277.89
Who knew that something as simple as a chair could give a major impact and necessity to our live? There are many types of ergonomics chairs available but not one type of office chair is necessarily the best, but there are some things that are very important to look for in a good ergonomic office chair.
This is where Tekashop FDOC0315BL mesh office chair come in handy as the design are beautifully carved into the specifications of an ergonomic chair with the touch of edgy stylish look. Addition to that, this design are well crafted to fit into the needs of a standard back support system with breathable mesh fabric that allows the air flow and gives you cooling comfort with an affordable price.

Contact us to find out more
Customer enquiries:
Phone: +601120641106
Email: admin@tekkashop.com.my
For more stories like this, join our Facebook community on Facebook
Need help with your order? chat with us here
About Author
Nur Assila
Nur Assila is a freelance content writer specialises in commercial writing, love travel and enjoy walking on the beach.