Rustic interior design has been a trend for these past few years. We can see that many hotel lobbies, hotel rooms, cafes, and restaurants have implemented this kind of concept. Hence, I think it is not wrong to try this kind of design to decorate our home. First, we need to understand the rustic concept. In rustic interior design, it plays with natural, rough, aged, and casual design styles of furniture and decoration. The presence of a console table can help in improvising the function of the room or space. A console table has multi-functions including storage and displaying your photo frames and other additional decoration things.
So, if you are currently looking for the best places to purchase rustic style furniture particularly wardrobe, can check out this article to find out more!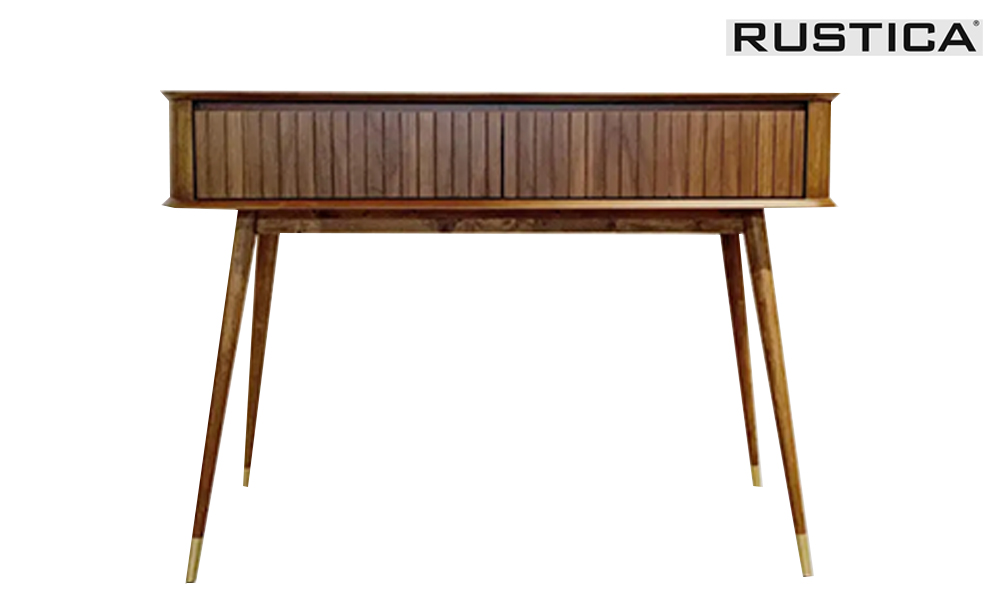 (Source: Rustica)
Rustica is a luxury furniture brand that focuses on European-style designs that are capable to cater multi-generational and dual-gender customers. Every product is picked from the best material to ensure the long life span of the goods. Every piece of furniture is designed accordingly to suit the taste and needs of various background customers. If you have been eyeing for rustic luxury kind of furniture, can check out their website or go to their physical stores located in Johor Bahru or Kota Kinabalu, Sabah.
Address: 19, Jalan Waja Satu, Pandan, Johor Bahru.
Contact number: 07-3525289
Address: Batu 6, Petagas, Jalan Putatan, P.O.Box 11767,Kota Kinabalu, Sabah.
Contact number: 008-765536

(Source: Tekkashop)
Tekkashop is known as the supplier of home furniture and office furniture since 2015. With their good expertise in this field, this company offers various designs of console tables in their collection of home furniture. Holding to its philosophy in providing high-quality products at a reasonable price for the customers. So, every product is designed accordingly to suit the taste, needs, and interests of their customers. The console table produced in Tekkashop undoubtedly has the best quality as the company always ensures the longer lifespan of their goods.
Their products and furniture come in various designs capable to fit in various concepts including rustic style. Hence, Tekkashop is listed as one of the best places to buy rustic-style console tables.
Address: Lot 1-03, I-Residence, Persiaran Surian Seksyen 4,
Kota Damansara, 47810 Petaling Jaya, Selangor
Operating hours: Mon-Fri, 10 am – 10 pm
Contact numbers: 03-78903019/ 6011-27058270
(Source: Scade Concepts)
Scade Concepts offers furniture for homes be it indoor or outdoor. Known for their special method of producing furniture such as all-weather wicker to ensure its durability for outdoor and indoor furniture. Hence, those who searching for furniture that has strong, durable material and modern design, can check out their website or visit their physical store located in Kota Damansara, KL.
Address: No. 13, Jalan Teknologi 3/3A
Taman Sains Surian Industrial
Park Selangor, PJU 5 Kota Damansara
47810 PJ. Petaling Jaya & KL, Kuala Lumpur, Malaysia
Contact number: +603-6156 8044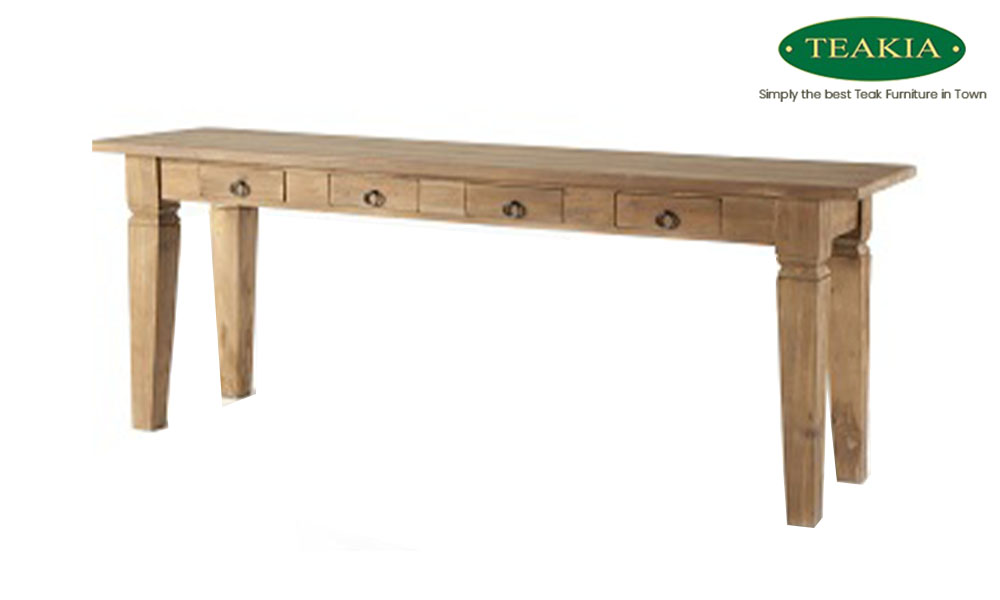 (Source: Teakia)
Teakia specializes in home furniture companies which every of their product is made of strong and durable materials such as teak wood and rustic wood. These types of woods are claimed to be highly resistant to rotting and to any kind of weather like hot sun, rain, and humid making them suitable for tropical weather in Malaysia. The design of every product particularly the console table has a natural rustic look making it suitable for various preferences and age groups. So, if you find console table from this place is eye-catching, do check out their website or visit their physical store.
Address: Address No. 54, Jalan Presiden FU1/F Accentra,
Glenmarie, Shah Alam, Selangor, 40150, Malaysia
Operating Hours: Mon - Sun / 9:30 AM - 8:00 PM
Contact number: +60 3-5569 0412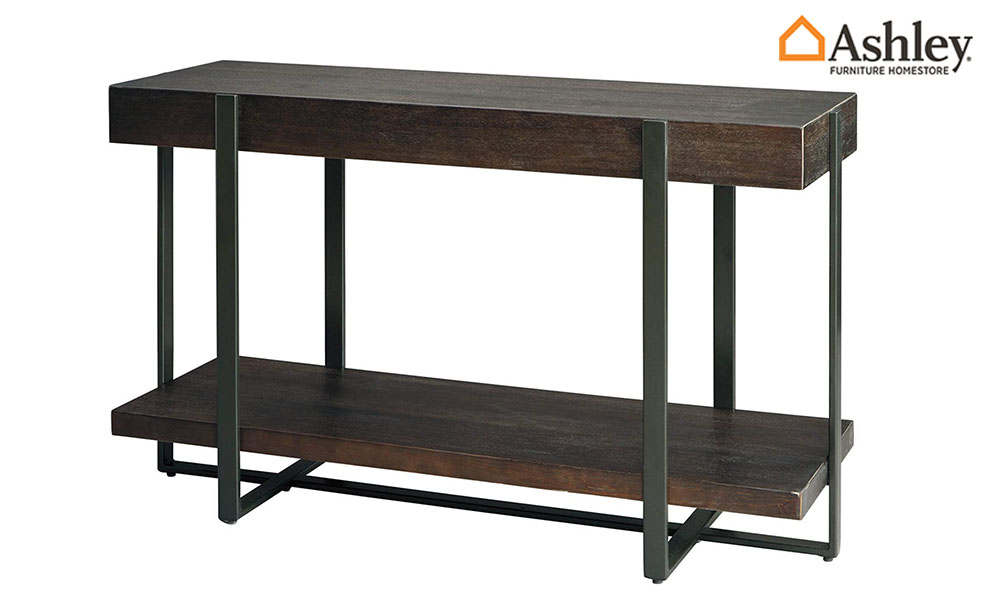 (Source: Ashley)
Ashley Furniture Homestore was established in 2014 in Malaysia and has approximately more than 1000 stores around the world. This company believes that every piece of home piece of furniture should complement the architectural space and not compete with it.
Their collection of console tables has various designs and concepts including rustic style. Hence, if you are interested to purchase a console table from Ashley, can visit their website or go to one of their physical stores located in Ara Damansara.
Address: Lot F-038 & F-39, First Floor, Citta Mall,
No.1,Jalan PJU 1A/48, PJU 1A, Ara Damansara
Petaling Jaya, Selangor 47301
Operating hours: Mon – Sun, 10:00 am – 10:00 pm
Contact number: 03-78319937

(Source: Rustic Heritage)
Good news for those who stay in the Northern Malaysia, Rustic Heritage is one of the furniture companies located in Penang. Their collection of furniture comes in various designs including rustic style. Rustic Heritage is known for its specialization in producing antique-style Chinese furnishings. Their mission is to bring distinctive aged looking furniture to modern interior concepts. Adding colors and interest to their home and room color palette.
Address: 515K, Jalan Tanjung Tokong, 11200 Tanjung Bungah, Penang, Malaysia
Operating Hours: Mon-Sun: 9:30am - 6.30pm
Contact numbers: +(6)012-2639890, +(6)017-8429890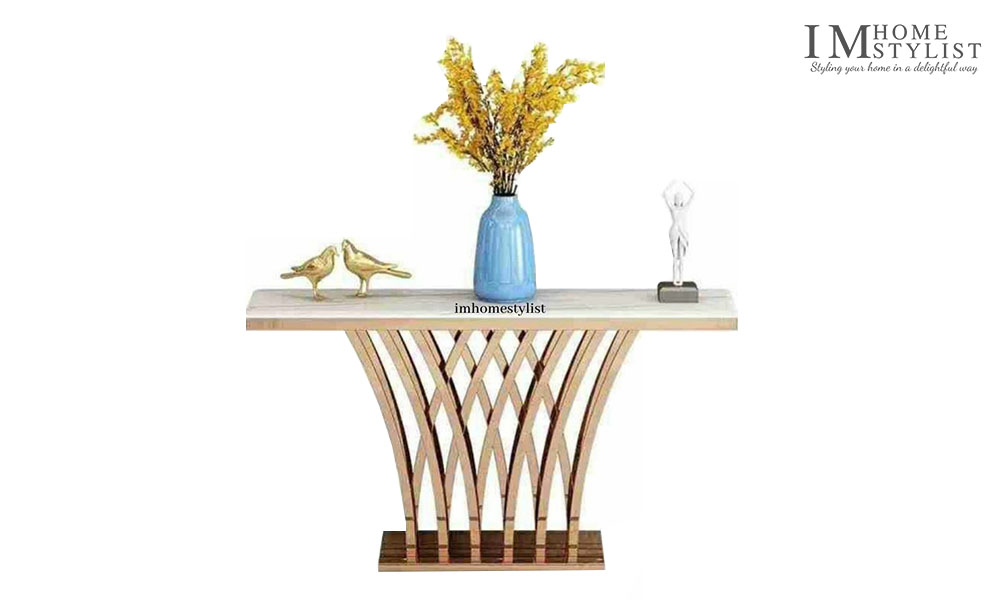 (Source: IMhomestylist)
IMhomestylist strives in providing the best home furniture and home appliances at a reasonable price. To ensure that they are able to cater to the needs of people from different backgrounds – age, gender. Every product is designed to fit in with many home concepts and themes including rustic style. Their collection of console tables is very eye-catching, modern, and gives a luxurious kind of vibe.
So, if you are fond to their collection of a console table, do check out their website or one of their physical stores located in Wangsa Maju.
Address: No 5 G, Jalan Maju Ria 2,
Plaza Wangsa Maju,
53300 Kuala Lumpur
Operating Hours: Mon – Fri, 9:00 am – 10:00 pm
Saturday – Sun, 10:00 am – 10:00 pm
Contact numbers: (Fikri) 011-11240734/ (Hafiz) 012-698 5351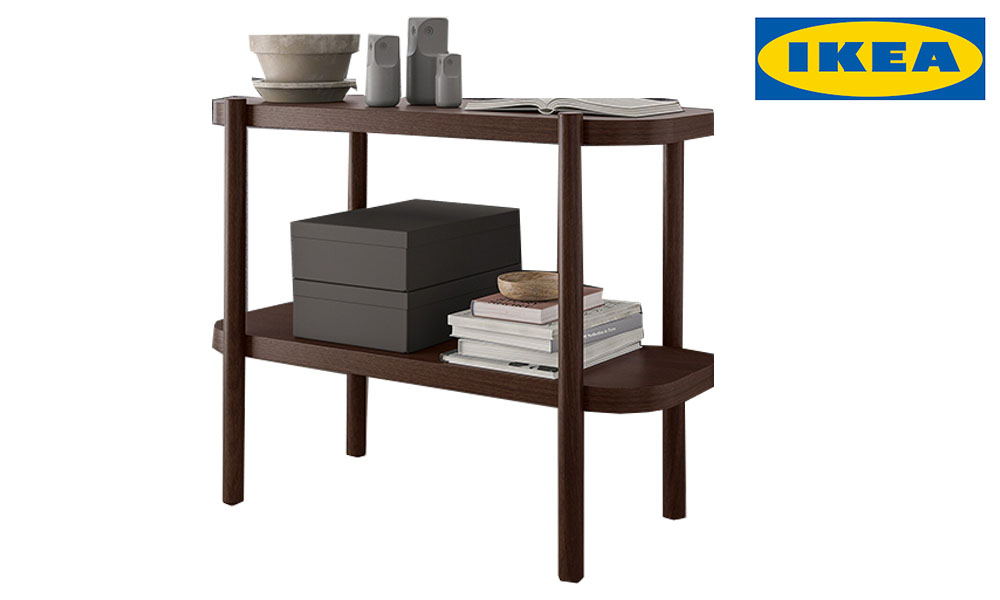 (Source: Ikea)
Ikea is a well-established furniture company that produces a wide range of home furniture and home appliances including console tables. Famous for its trendy, modern, and minimal designs and concepts for every product which are capable of catering to the preference of different age groups and gender. Products produced by Ikea always come in handy, are easy to use and require minimal maintenance hence, it is very user-friendly.
The console table provided by Ikea also has the ability to fit in with the concept of rustic style or any other preferred style.
Address: IKEA Damansara @ IPC Shopping Centre
No. 2 Jalan PJU 7/2,
Mutiara Damansara,
47800 Petaling Jaya, Selangor.
>Operating hours: Mon - Sun, 10 am - 10 pm
strong>Contact number: 03 7952 7575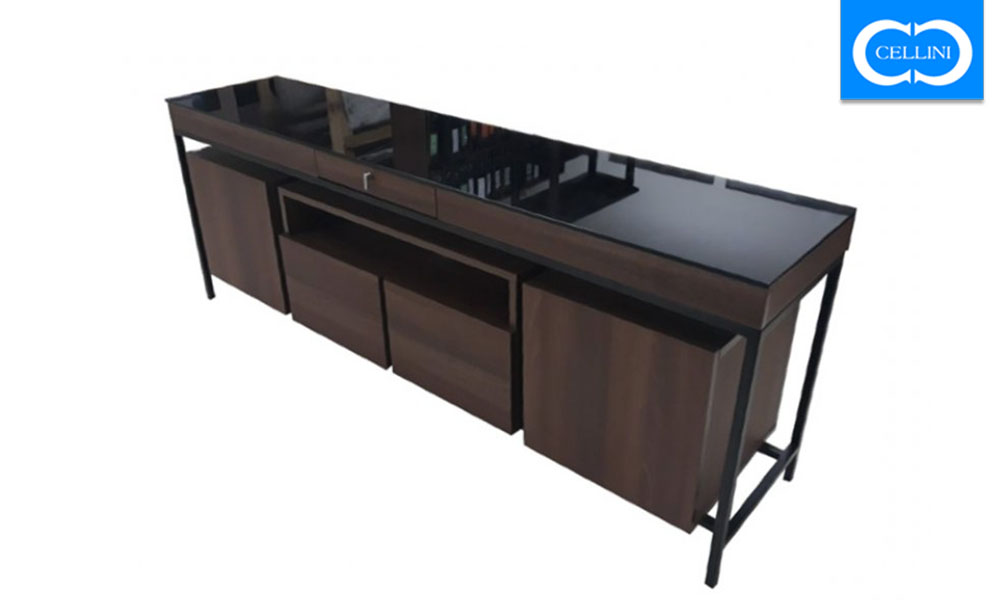 (Source: Cellini)
Cellini offers craftsmanship and timeless furniture to their beloved customers. Aluminium Alloy Sand Cast is one of Cellini's favorite materials in most of their products and always implements the old-school methodology in producing furniture. The unique element can be seen in the details of every product. Each product is carefully monitored to ensure only the best quality of the end products to be delivered to the customers.
Address: S077 – S080, 2nd Floor
Lingkaran Syed Putra
Mid Valley City, 59200 Kuala Lumpur
Operating Hours: Mon – Sun: 10 am to 10 pm
Contact numbers: Tel: +603 2283 6505 / +6016 2077 463

(Source: Ruma)
Ruma offers home furnishings that represent the urban, modern, and cosmopolitan styles that cater to various preferences. Ruma also sources and handpicks the trendiest home furnishing items, then tweak and resize them to fit the needs of a modern home. Referring to the image above, the Malcome Driftwood Console Table is one of the best collections that conjures up coastal themes with its simple rustic design and weather-worn appearance. It features stunning black metal legs matched with the main body of the furniture pieces being made from beautiful driftwood.
Address: Ruma Warehouse (HQ)
Lot 1082, Jalan Bangi Lama,
43500, Semenyih, Selangor
Operating hours: Mon-Sat: 2.00pm-5.00pm
Contact numbers:
018-9854811 (MesaMall Store)
018-3514811 (Atria Store)

I hope that this article 'Top 10 Rustic Style Console Table Brands in Malaysia 2022' can be beneficial in helping you to purchase the best and the most suitable console table for your home. In hoping that you are able to realize your dream of transforming and improvising your space.
Looking for new wardrobes or other furniture for your home or interior design project? Check out this amazing furniture website! www.tekkashop.com.my



Contact us to find out more
Customer enquiries:
Phone: +601120641106
Email: admin@tekkashop.com.my
For more stories like this, join our Facebook community on Facebook
Need help with your order? chat with us here
About Author
Fatiha
Fatiha is a freelance content writer who specialises in commercial writing, love travel and enjoys walking on the beach.