There are various designs of the tv cabinet to look into depending on the taste and functionality. 2021 its all about simplicity and space savings.
That this is when the trending Scandinavian style comes into demand.
But what is Scandinavian style?
If you are interested in the style of the Nordic countries, you will realize that light is of the essence. So the furniture, whether it's a Scandinavian chair or any other piece of furniture, is particularly refined to let in light.
A piece of furniture of good quality, which can also be easily mounted with its numbers on all parts of the furniture. It also came with accessible cable ducts on the 2 storage compartments in the middle that don't have any wires running anywhere. The TV seems to be on top of the furniture and works without cables too.
Ideal for a student room or a small studio and has a pleasant design.
FDTVC0960 Cute Minimalist Contemporary Style Solid Acacia Wood 1.2m TV Cabinet
RM 799
A modern and minimalist design with a piece of furniture that offers a shelf to decorate and storage space. Made from good quality solid wood for the tv cabinet. It also comes with a free coffee table.
PROMO ++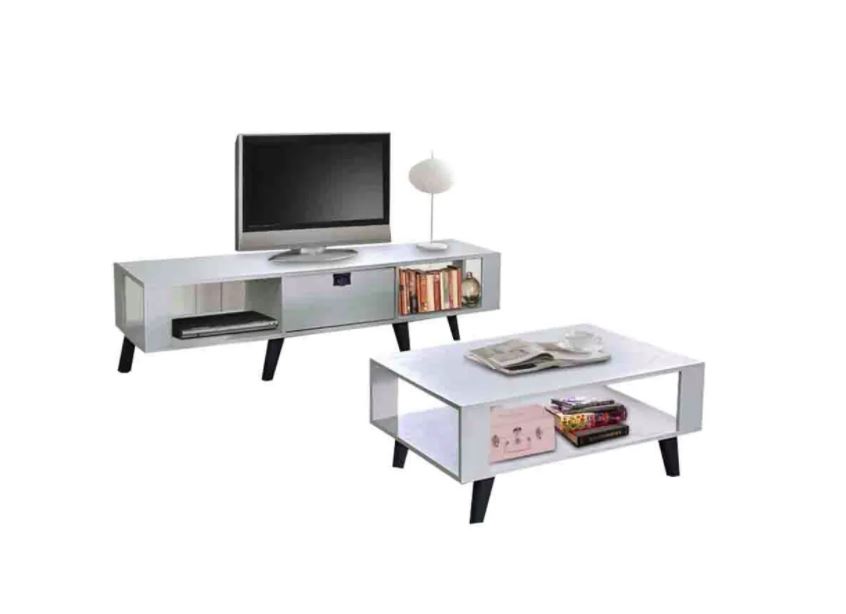 LDTC0449W Contemporary Style Home TV Cabinet with Free Coffee Table - White
RM 399
This long Scandinavian design TV cabinet is a perfect storage solution for your entertainment appliances such as TV and sound system. It comes with two opened shelving in the middle and two closed compartments to suit your storage needs.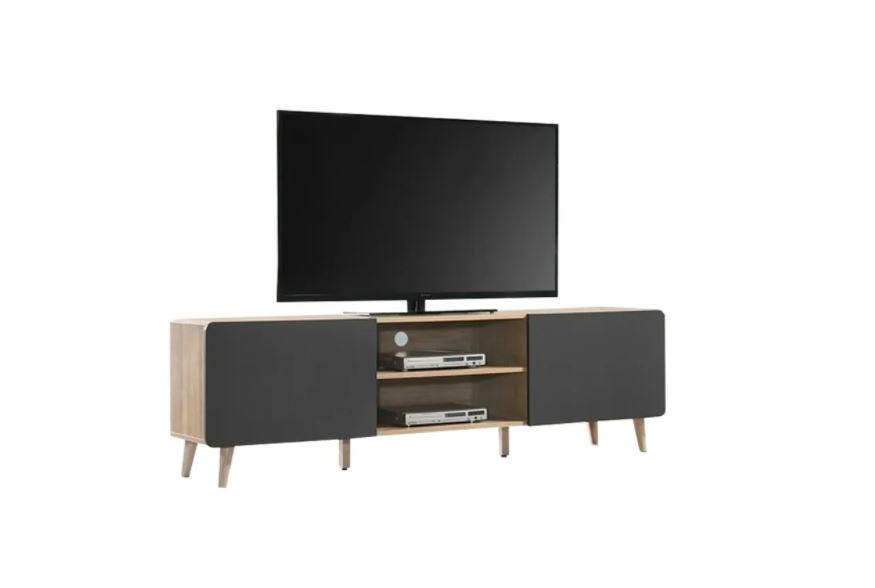 FDTVC0665 Smooth Simple Scandinavian Design (6 ft) Wooden TV Cabinet / TV Entertainment Console with Compartments
RM 599
What criteria should you use to choose your Scandinavian TV cabinet?
Despite a simple guideline, the Scandinavian style can vary from one piece of furniture to another. Additional options may also appear on certain models. We will try to decipher the different elements in order to consider the selection of the best Scandinavian TV cabinet. To this end, we have created a list of criteria that we consider important when choosing this furniture.
The size of the furniture
The type of foot
Furniture material
Memory available
The cable duct
The aesthetic aspect
The size of the furniture
Choosing your furniture for watching TV requires a global consideration of part of the room surface, but also the size of the sofa used. For example a convertible sofa can be slightly higher or lower than a corner sofa . The seat determines the height of the Scandinavian TV cabinet, so as not to be uncomfortable while watching your film. The size of the TV cabinet also depends on the TV you plan to use. Don't spend too long on a piece of furniture for a small TV. For a 140cm device with an 80cm television, there is 30cm left on each suitable side. A larger TV can "spoil" the aesthetic appearance of your TV cabinet.
The type of foot
The Scandinavian style is also a story of the foot, in fact we find furniture or chairs with wooden legs. The Scandinavian idea is to have the most discreet feet possible, which is why manufacturers today are also proposing models of television cabinets with wrought iron feet for an even cleaner look. At last you will find Scandinavian TV furniture without legs or rather with mini legs. Look for furniture without legs, they are lower and may not be suitable for your sofa to watch TV in optimal conditions.
Furniture material
If we rely on the fact that this type of wooden furniture has an ecological dimension and low impact on the environment, we must remain pragmatic and recognize that the Scandinavian style today is primarily MDF wood, which uses synthetic adhesives. Despite all this, furniture has an important design aspect with wood and its simple and practical side. However, there are brands that offer Scandinavian solid wood TV furniture like this product:
PROMO ++
AMTC1406-BR Mid-Century Style Home Living Room Wooden TV Cabinet / Kabinet TV-Brown
RM 1.124.80
Possible storage
The TV stand is not just a piece of furniture to set up your TV and receiver, it also offers various options for storage and decoration. So in the Scandinavian style we find simple shelves to place your decorative items. In terms of storage, you can have either drawers or shelves closed by a door. If you want to keep a minimalist dimension at home, prefer the Scandinavian TV cabinet with simple shelves to avoid compulsive storage in the drawers.
Cabel Canal
However, if the clean side is practical, it can be less aesthetic if you have to run the TV's cables behind it. You can choose a Scandinavian piece of furniture with a base and cable opening. In this way, the TV cabinet keeps its simplified side, while the electrical cable is hidden behind the bottom.
The aesthetic aspect
This is the high point of choosing a Scandinavian TV cabinet, the aesthetic aspect should not be overlooked. This is about the colors of the furniture on the one hand, but also about the minimalist appearance. The furniture should match your style and decoration, so we recommend using simple furniture in the living room, for example. This includes the choice of living room floor lamp and even living room rug . The Scandinavian TV cabinet is part of a light and simple approach with an elegant and modern twist.

Contact us to find out more
Customer enquiries:
Phone: +601120641106
Email: admin@tekkashop.com.my
For more stories like this, join our Facebook community on Facebook
Need help with your order? chat with us here
About Author
Nur Assila
Nur Assila is a freelance content writer specialises in commercial writing, love travel and enjoy walking on the beach.