There are extensive restaurant furniture choices – tables, diner chairs, and bar stools available in the market. Hence, it can be pretty challenging to pick the right one for your dream restaurant. While planning to purchase the perfect furniture for your restaurant, many factors must be considered before deciding which furniture suits your needs and preferences.
Below, we will discuss the correct way to pick restaurant furniture.
1. Fit the Overall Restaurant Concept
First, when planning a restaurant interior, you may stumble upon which restaurant concept you should implement. Be it rustic, minimalist, industrial, maximalist, Scandinavian, or Muji-theme (the list goes on). It is essential to pick the right furniture as it will tie the overall look of the space together.
2. Match the Restaurant Type
Aside from thorough decision-making for your restaurant concept,
Fast-food restaurant: This type of restaurant usually has a high traffic flow of people, and management needs to ensure everything goes smoothly. Considering the design, functionality, and durability is essential to avoid issues from occurring.
Casual cafe: Casual cafe is a new trend for F&B; many are preferred to spend their time in a cozy and chilled cafe environment. They were enjoying coffee and dessert while vibing with the atmosphere. This cafe usually attracts young adults and students to spend leisure time with beloved ones.
Casual dining restaurant: Typically being the family's favorite place to dine in. Hence, creating an enjoyable, comfortable, kid-friendly atmosphere and serving good food is essential. Choosing the dining tables and chairs that fit the restaurant's overall theme will create a harmonious ambiance. Also, do not forget to provide baby chairs for extra convenience for the parents to eat.
Bar: The essential aspect to consider for bar furniture is its durability and resistance to heavy usage and spills. The best materials that suit this type of setting are wood and steel. Another essential factor to consider is the counter and chair height; to provide comfort for long hours of sitting.
3. Quality of the Product
Another critical point to observe before deciding on the purchase is the quality of the product. Buying high-quality furniture is a long-term investment to avoid unnecessary restoration in the future. Also, it is a forfeiture of your budget to buy furniture that cannot withstand an extended period of usage. Hence, you need to ensure the products are durable and made of high-quality materials.
4. Function and Comfort
Functionality and comfort should underlie every restaurant's furniture. Providing great hospitality should be on top of your list to ensure every customer will get a satisfying dining experience. Aside from the aesthetic element of the interior, comfort plays a vital role in maintaining the customer's experience. Consider high-function furniture into your tick boxes!
Best Restaurant Furniture to Incorporate
At Tekkashop, we have extensive choices of eccentric and premium restaurant furniture to incorporate into your space. Different materials – steel, wood, plastic, and rattan- match your interior design. If you're looking for the best restaurant furniture in Malaysia, we've listed some products in our collection below.
This adjustable dining table is constructed with a round melamine top and stainless steel leg base. Since the product is durable, it can withstand heavy usage. Hence, the product is suitable for commercial use – restaurant, bar, and Airbnb.
---
Product Specification:
Product function: Adjustable dining table
Product material: Melamine, Stainless Steel
Product dimension: DIA 700 x H 700-900 mm
Product color: White
---
If your restaurant is incorporating a luxurious theme, this Titanium Gold Frame and White Marble dining table are one of the best options to pick. The table is made of an artificial white marble tabletop and titanium gold base frame. The product is stainless steel. Therefore it is very durable to ensure the best quality and capable of lasting for an extended period.
---
Product Specification:
Product feature: Stainless Steel, Gold Frame
Product material: Marble, Titanium
Product dimension: W1800 x D910 x H770 mm
Product color: White Marble
---
This premium modern style dining chair features pinned edge backrest that will seamlessly match any modern interior concept. The chair is made of fabric velvet cushion and steel frame. Hence, this chair's presence will surely make the space appear premium and luxurious.
---
Product Specification:
Product feature: pinned edges backrest
Product material: velvet with steel frame
Product dimension: W600 x D565 x SH460/820 mm
Product color: Grey
---
This simple cushion seat dining chair features a medium-high backrest and slim wooden legs. The chair is made of a high-quality padded fabric cushion seat for extra comfort after a long hour of sitting. Suitable to integrate into any modern and classic interior design – minimalist and industrial.
---
Product Specification:
Product function: chair
Product material: fabric cushion, wood
Product dimension: W 540 x D 585 x H 740 mm
Product color: grey
---
This contemporary luxury-style dining chair features a minimalist element in its design. The slim gold chrome legs and high-quality upholstered fabric make the chair appear premium. The presence of this chair surely can lighten up the whole space and make it appear more exclusive.
---
Product Specification:
Product feature: a minimalist element, which is a slim metal leg in chrome
Product material: fabric cushion seat and slim metal leg in gold chrome
Product dimension: W580 x D540 x H 780 mm
Product color: Tiffany Blue
---
This bar stool is ideal as it has a unique design that makes it look modern. It has a low backrest and footrest support, making it comfortable while sitting on it. It was created with mild steel with a cushioned seat, making it comfortable and durable.
---
Product Specification:
Product feature: Barstool with a unique design
Product material: Mild Steel with Cushion Seat
Product dimension: W515 x D530 x SH750/H950 mm
---
This retro-style counter chair features cocoa color leg and a navy color Challis fabric seat. The chair is made of solid Rubberwood, which is recognized for its durability and, with reasonable care, can last for an extended period. Suitable to incorporate into any bar or restaurant.
---
Product Specification:
Product function: counter chair
Product material: Solid Rubberwood
Product dimension: L 500 x W 460 x H 965 mm
Product color: Navy
---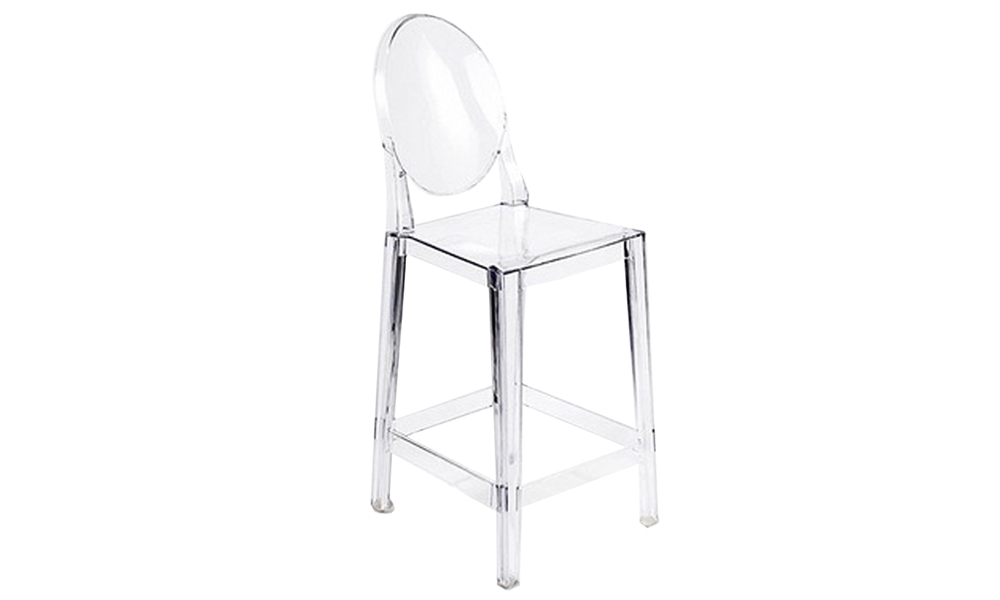 The transparent acrylic bar stool gives an illusion of making the room appear larger and less crowded. Suitable to integrate into limited space size as the chair's design is slim and non-bulky. The stool is made of high-quality acrylic, which is very strong and sturdy. With good care, the bar stool can withstand a more extended period. The design of the chair features a backrest to provide extra support.
---
Product Specification:
Product feature: Transparent Bar Stool Chair
Product dimension: W380 x D480 x SH650/ H1100 mm
Product material: Acrylic
Product color: Transparent
---
This bar stool creates an elegant and industrial look to your interior. It features a low backrest and footrest support and comes in 750mm seat height. The product is made with mild steel, which makes it solid and durable.
---
Product Specification:
Product feature: low backrest and footrest support and comes in 650 / 750mm seat height
Product material: Mild steel
Product color: White/Black or Optional (Pre-Order)
Product dimension: W390 x D390 x H940/SH750 mm
---
Finding the perfect furniture that suits your needs and preferences is not easy. Therefore, I hope this article, 'How to Choose the Right Restaurant Furniture in Malaysia 2022', will give you some ideas for revamping your space. If you're looking for a place to buy home, office and restaurant furniture, feel free to visit our website or walk into our physical store in Kota Damansara upon appointment.
Looking for new wardrobes or furniture for your home or interior design project? Check out this amazing furniture website! www.tekkashop.com.my
Contact us to find out more
Customer enquiries:
Phone: +601120641106
Email: admin@tekkashop.com.my
For more stories like this, join our Facebook community on Facebook
Need help with your order? chat with us here
About Author
Fatiha
Fatiha is a freelance content writer specializing in commercial writing, loves travel, and enjoys walking on the beach.