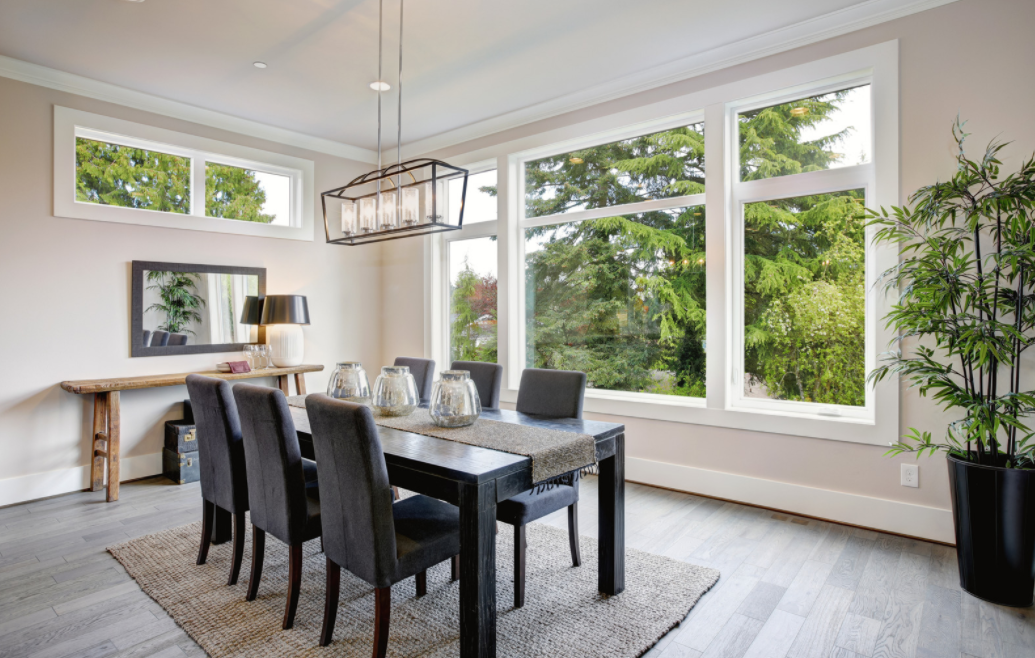 Top 6 Tips On How To Choose Best Dining Table in Malaysia 2021 Edition
A nice designed dining room is always become the focal point of your home. The star of this space is of course your dining table. Why? It is because dining tables are highly functional for eating, family gathering and many more. If you are living in Kuala Lumpur and Selangor area, you do not have to worry because we at Tekkashop Furniture has a lot of great dining tables design for you to choose, we do delivery all over Malaysia too. But before that, you need to know the important aspects to ponder before purchasing or choosing your dining tables design for your dining area are the sizes, shapes and also the type of materials used.
1. Measure and inspect your dining room space
When you're choosing furniture for your home no matter if its sofa or dining table, you need to measure the availability of space first. Inspect the size of your dining room where your dining set will reside. By doing that, it will give you an idea of the dimensions of a possible design that can fit in your dining area. Generally, the distance between the edge of your dining table set and the wall, or any other piece of furniture, needs to be around three feet. This will allow enough space for you to move your chair and enough clearance while walking around the table.
Recommended products for you :
2. Choose the style of dining room
No matter what your style of the house is, you need to choose a dining table that will compliment your dining room. Whether it's a traditional, contemporary, Scandinavian or a rustic setting, choosing your dining table should reflect its surroundings. There are a number of dining table designs style that will harmonise with your existing interior such as traditional country style, classic or period styles, modern and contemporary, industrial and Scandinavian.
Recommended products for you :
3. Choose the perfect shape of dining table
You need to choose the best shape of dining table that will fit well with the size of your dining space. If you have a small space, a 36-44 inch square four seater dining table or a round dining table with a diameter of 36-48 inch will keep the space from looking cramped. But you can also choose a triangular-shaped dining table design. These can accommodate up to 6 people depending on placement and dimensions.
Rectangular, oval or circular shaped dining tables are ideal for more formal spaces, the latter being better suited to classic styles. If you have enough space, a 72-inch long rectangular table can be the best option to choose because it can accommodate six people, while a 96-inch long rectangular table can comfortably seat eight people.
Recommended products for you :
4. Choose the best material and finishes
A good dining table must be made from the high quality, durable materials. If you choose a wooden dining table, always choose for hardwoods materials for instance walnut, mahogany, oak, or teak. Other than that, you can also choose the dining table with glass top because it can be easily blend well with the existing home decoration. Furthermore, glass tables are also reflective, thus it can help to add a lighter and brighter feel to the dining space. Not just that, dining table with glass tops are also very easy to clean.
Another material that you can choose as an option is medium density fiberboard (MDF). It is known because of ita durability and quality. Plus, treated MDF is also easy to clean. In addition, Granite and quartz tabletops are also an elegant, easy maintenance option for contemporary style interiors.
Recommended products for you :
5. What is your type of usage with the dining table
Before you make a purchase, you need to consider how you use your dining table. For instance, if your dining table is usually used by the entire family, you need to pick sturdy, medium to large size tables that are made of durable materials. However, if your dining table is used less frequently, you can go for more decorative finishes like a patterned veneer finished table top.
Recommended products for you :
6. Choose the best type of seating
One of the best way to pick a dining chair for the table definitely would be to purchase the entire set or go for chairs that match the table perfectly. But times are changing these days, you can get creative and experiment with the chairs ; in form and shape context. By doing that, it helps to add a dash of exclusivity in your dining room. Plus, when you choosing your dining table, you can always try to mix and match seating options provided with a bench and different chairs as well.
Recommended products for you :
With these handy tips, choosing your dining table should not be a tough task and you are all set to give your dining room a facelift and transformation to a better space and favourite spot of your house.
Contact us to find out more
Customer enquiries:
Phone: +601120641106
Email: admin@tekkashop.com.my
For more stories like this, join our Facebook community on Facebook
Need help with your order? chat with us here
About Author
Noramin
Noramin is a freelance content writer specialises in commercial writing, love music and enjoy sketching on his sketchbook.