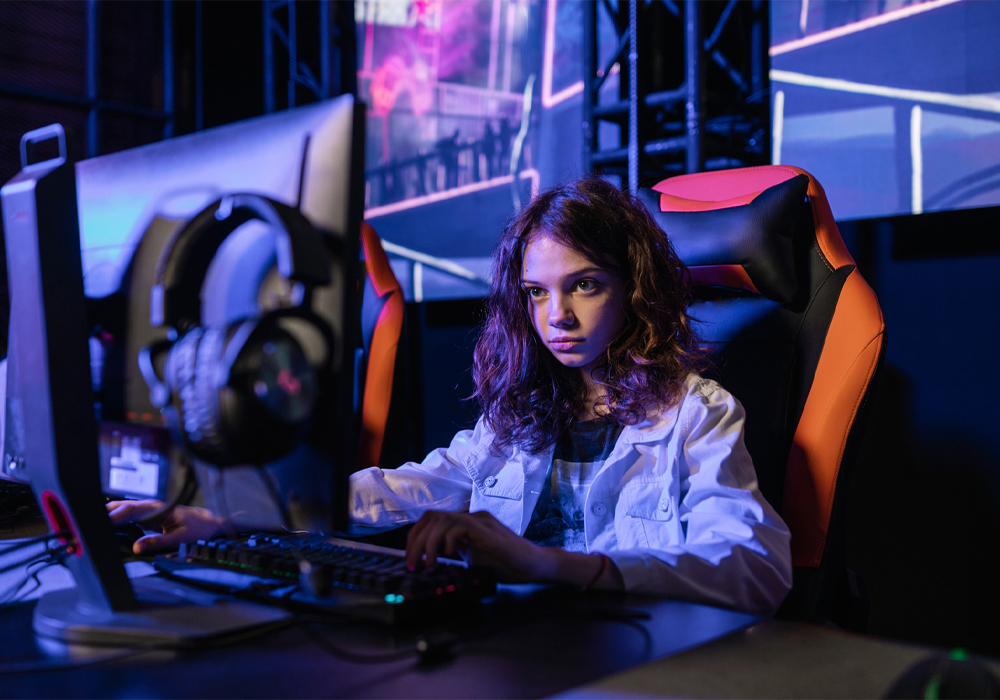 Gaming Chairs in Malaysia
Having the right gaming tools and accessories can help in elevating your experience in playing games by making them more comfortable and conducive. Hence, choosing the correct gaming chair that suits your body and caters to your needs is essential. According to the experts, most game enthusiasts would spend approximately six to eight hours playing computer games every week. The number of gamers is increasing in 2020 due to the worldwide lockdowns of Covid-19. Many find that playing games are escapism from their stressful lifestyle and a platform to socialise with their friends. Therefore, it is essential to find a gaming chair that allows you to sit comfortably for long hours. Sitting in the wrong position can cause body ache and leads to severe back pain in the long term.
If you're looking for the best gaming chairs for your comfort, read through this article as we've prepared a list of Top Gaming Chairs in Malaysia 2022.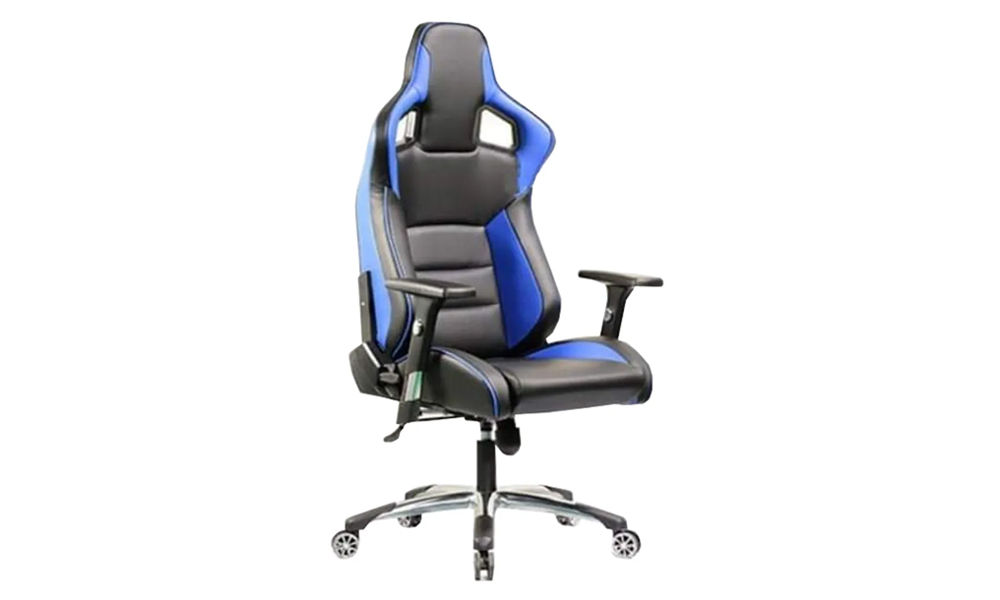 Source: Tekkashop
Tekkashop is known to deliver the best quality of products to its customers consistently. This modern style high gaming chair features with adjustable armrest and upholstery cushion seat, which offers you the best experience of gaming time. The adjustable lumbar support and high backrest can ensure you with ultimate comfort while preventing you from getting body aches. This particular design comes in a wide range of colours to suit your liking – blue, green, orange, purple, red, white and yellow.
Product specifications:
Material: PU leather, Nylon support castors and imported gas lift
Adjustable armrests with PU padding
Imported multi-locking back tilt mechanism
Product dimension: W 500 x D 660 x H 1340 mm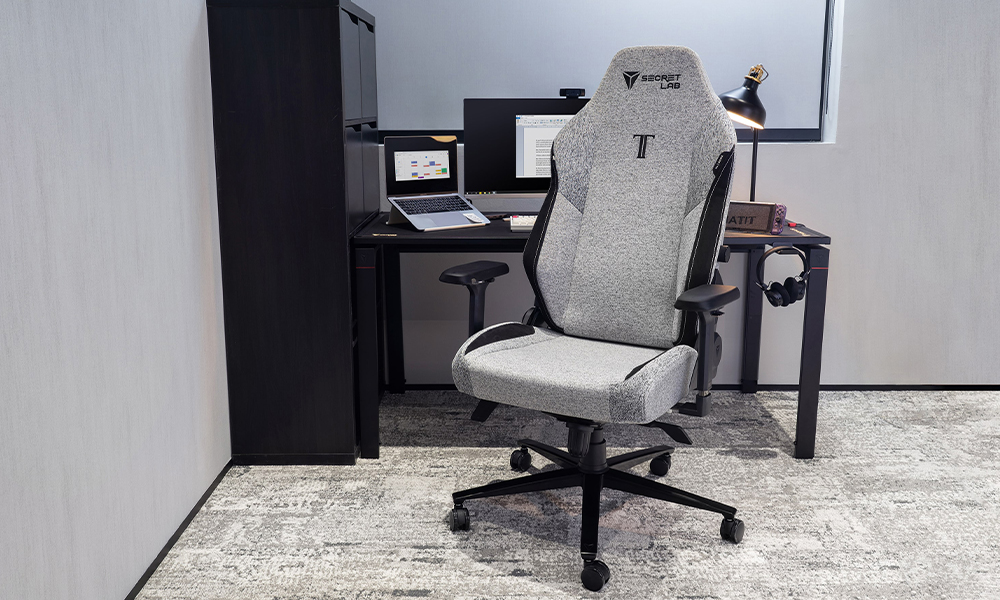 Source: Secretlab
Secretlab TITAN Evo 2022 Series is a customisable gaming chair to cater to various body sizes-small, regular and XL. Customers can pick their desired upholstery materials from hybrid leatherette, softweave plus fabric and NAPA leather. The product features adjustable lumbar support and research-backed ergonomics for a healthy sitting posture.
Product specifications:
Material: NEO hybrid leatherette, SoftWeave plus fabric and NAPA leather
4-directional soft PU-coated armrests
Multi-tilt mechanism
Product dimension: (Small) 83.5cm (L) x 71cm (W) x 38cm (H), (Regular) 85cm (L) x 72cm (W) x 38cm (H), (Large) 88cm (L) x 78cm (W) x 38cm (H)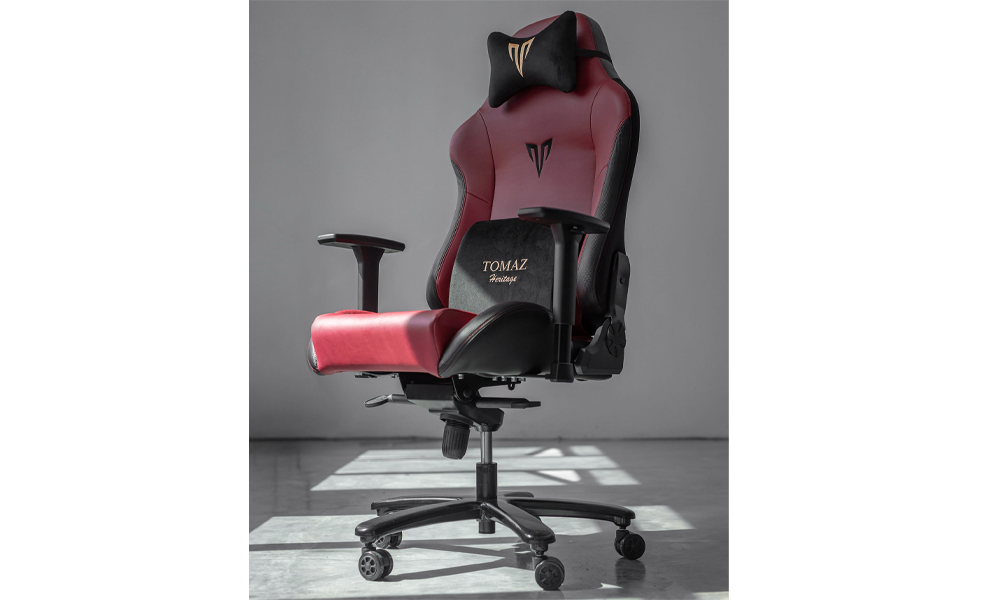 Source: Tomaz
Tomaz Vex is designed for game enthusiasts to experience the ultimate comfort while immersing in the games. The design of this gaming chair imitates the VR racing style seat with a carbon fibre pattern on the sides and red stitching.
Product specifications:
Material: breathable cooling fabric weave
Adjustable 3D armrest height
90-165 degree adjustable backrest
Support up to 180kg and 175cm-200cm height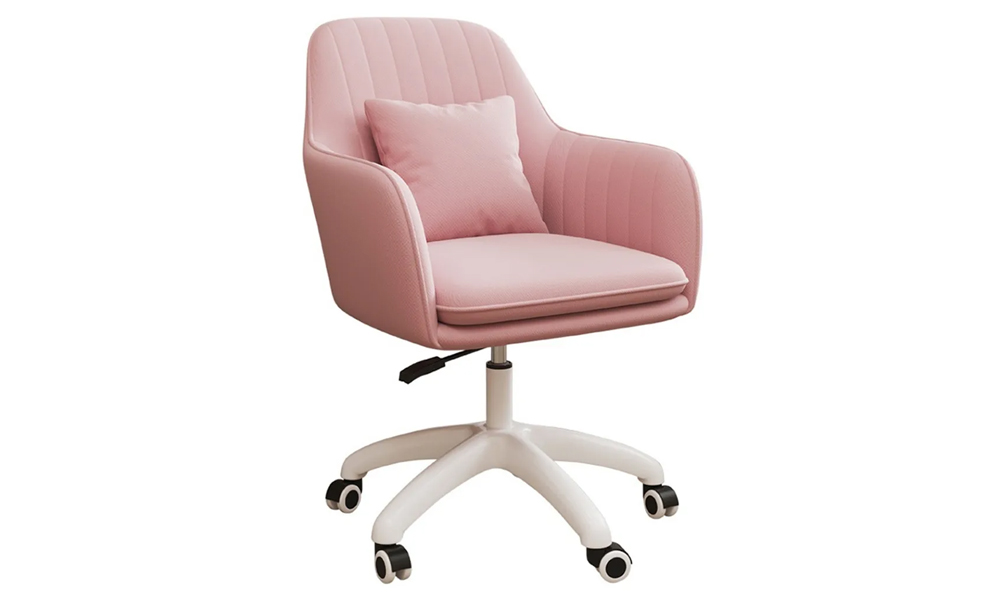 Source: Tekkashop
Typically, a gaming chair is a masculine design – bulky in size and dark colour. This aesthetic swivel cushion gaming chair is designed to cater for female game enthusiasts. The pastel pink and white combination is suitable to incorporate into your bedroom. It comes in a non-bulky size and feminine design without taking too much space in your room.
Product specifications:
Material: soft velvet fabric, powder-coated metal leg
Adjustable seat height
Product dimension: D 600 x W 600 x H 900 mm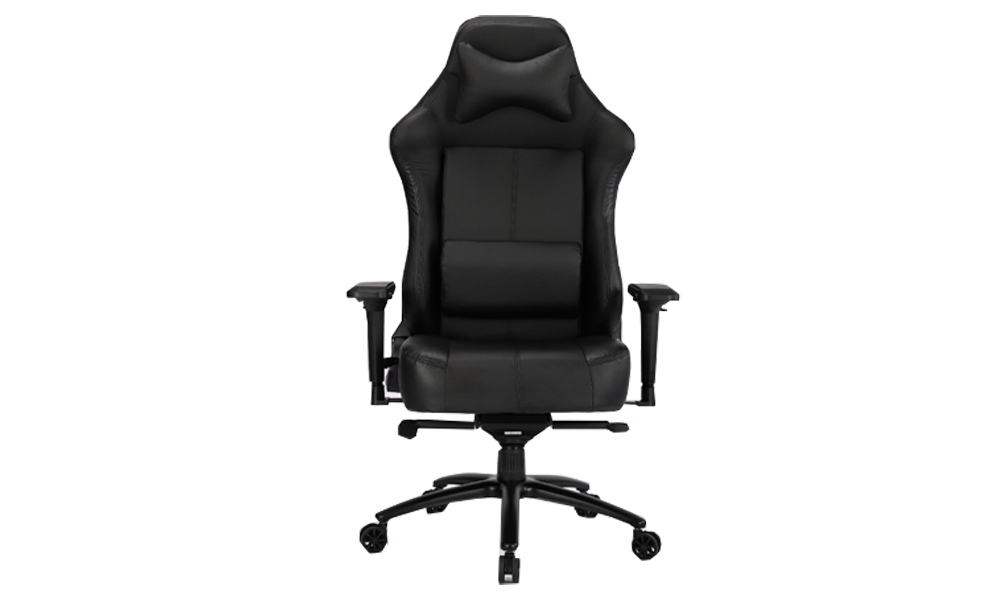 Source: Evis
Evis Bizio Series provides incredible ergonomic support for the best gaming experience. They are specifically designed to prevent you from getting severe health issues like back and neck pain. The backrest fits the back shape, improves posture and provides comfort for prolonged sitting.
Product specifications:
Material: high-quality PU leather
4 directional armrests
Solid steel base
Support body weights of up to 150 kg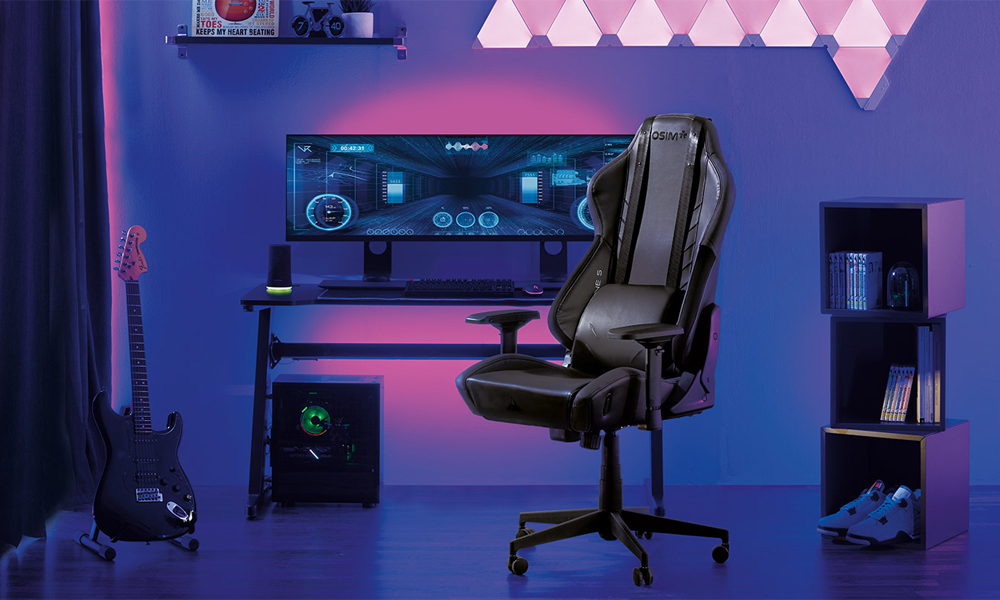 Source: Osim
A prolonged sitting in front of the screen can lead to discomfort, muscle tension, and body aches. Therefore, the Osim uThrone S gaming chair comes with a unique feature, the vibration massage to help in relaxing tense muscles and improve blood circulation. The vibration intensity can be set into three modes – high, low and auto.
Product specifications:
Material: breathable PVC woven leather and suede,
Adjustable back strap, charging port and side hook
Product dimension: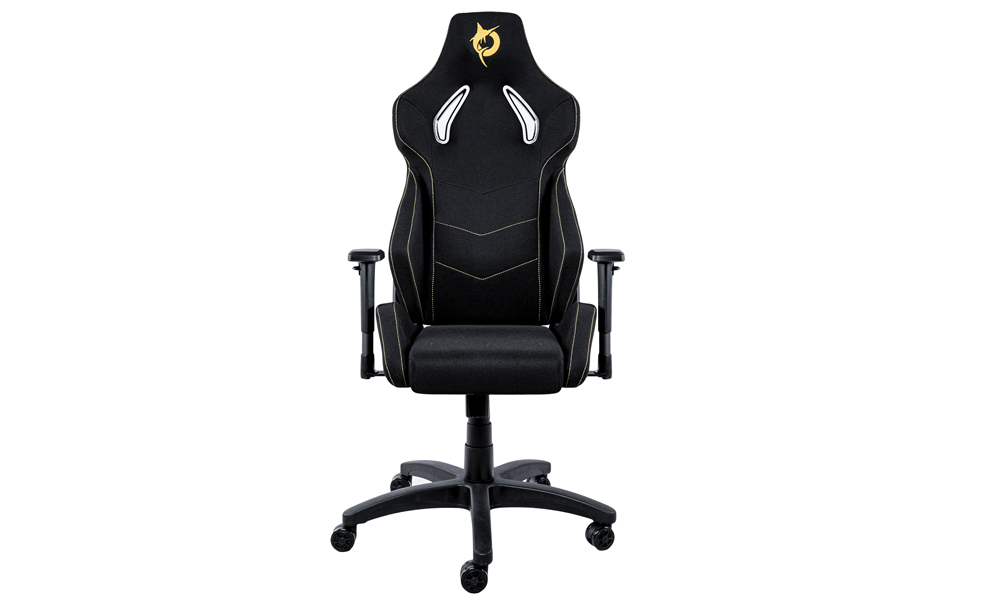 Source: Todak
Todak Zouhud allows you to optimise gaming experiences at an affordable price. The material of black elastic fibre provides you with comfort, softness and breathable cushion. Comes with features like a full-tilt mechanism, memory foam headrest and 155 degrees tilt backrest.
Product specifications:
Material: black elastic fabric
Memory foam headrests
Adjustable butterfly backrest mechanism
Product dimension: 83 × 65 × 32 cm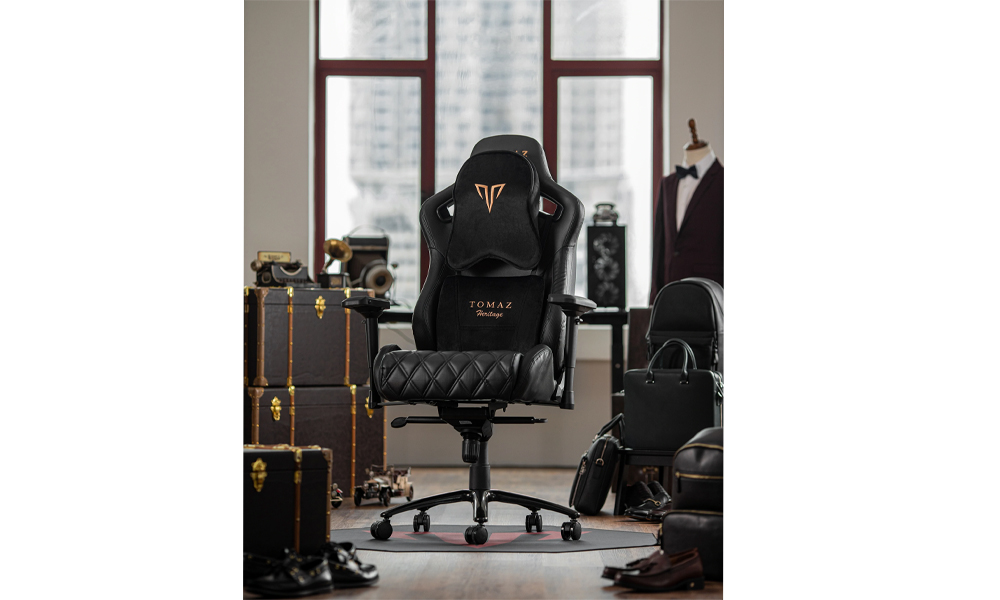 Source: Tomaz
Tomaz Troy gaming chair series is designed to give comfort for a long sitting. The product features a wider backrest and a lumbar cushion that helps improve your posture.
Product specifications:
Material: cooling fabric weave, PU castors and iron base
4D adjustable height armrest
Cold cure high-density soft foam technology
Supports up to 180 kg and 172 – 188 cm
Source: Tekkashop
If you find your current office chair looking too dull and unattractive to incorporate into your interior, it is time for you to get yourself a brand-new gaming recliner chair. This gaming chair ensures you get comfortable during extended hour seating. It comes with a back lumbar that can support your body weight and improve your posture, which can prevent you from getting body aches. The reclining mechanism helps you to adjust the backrest according to your preferences.
Product specifications:
Material: PU leather
Adjustable armrest
Product dimension: L 700 x W 640 x H 1270 - 1340 mm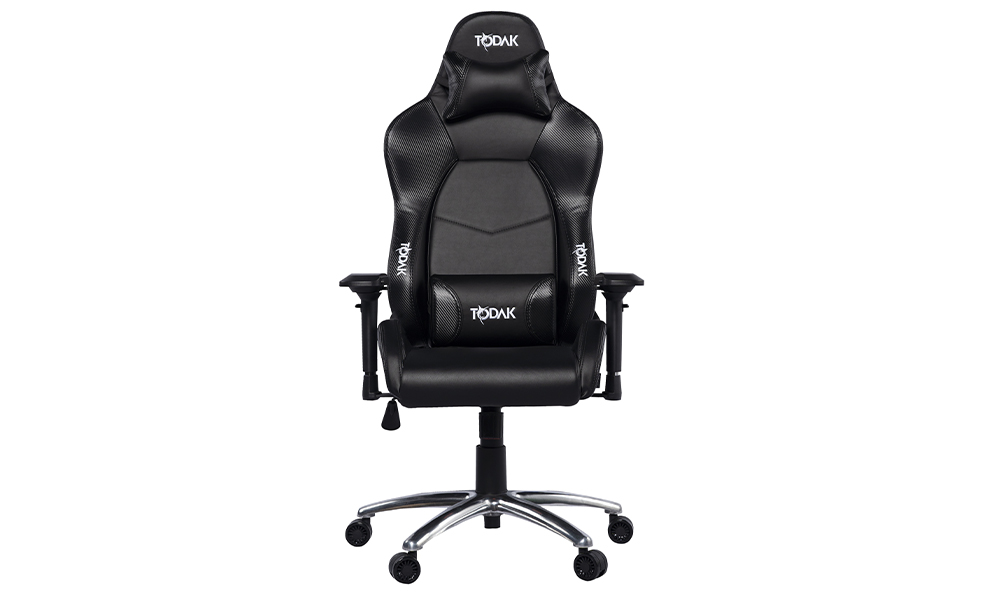 Source: Todak
Todak Alpha Premium is listed as among the best gaming chairs in Malaysia. The product is made of thick cold molded foam and breathable leather to maximise your comfort. Its sturdy metal frame ensures you for long term use and high-density molded foam that does not subdue after a long gaming period.
Product specifications:
Material: PU leather, metal foam, high-density molded foam
4D armrest
Interchangeable memory foam headrest
Supports up to 150 kg body weight
Finding the perfect gaming chair that suits your needs and preferences is not an easy task. Therefore, I hope this article, 'Top 10 Best Gaming Chairs for Your Ultimate Comfort in Malaysia 2022', will give you some ideas for revamping your space. If you're looking for a place to buy home and office furniture, feel free to visit our website or walk into our physical store located in Kota Damansara upon appointment.
Looking for new wardrobes or furniture for your home or interior design project? Check out this amazing furniture website! www.tekkashop.com.my

Contact us to find out more
Customer enquiries:
Phone: +601120641106
Email: admin@tekkashop.com.my
For more stories like this, join our Facebook community on Facebook
Need help with your order? chat with us here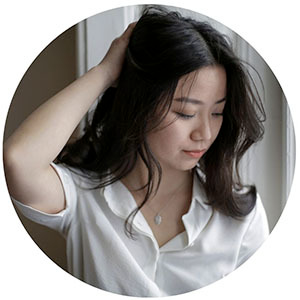 About Author
Fatiha
Fatiha is a freelance content writer specializing in commercial writing, loves travel, and enjoys walking on the beach.