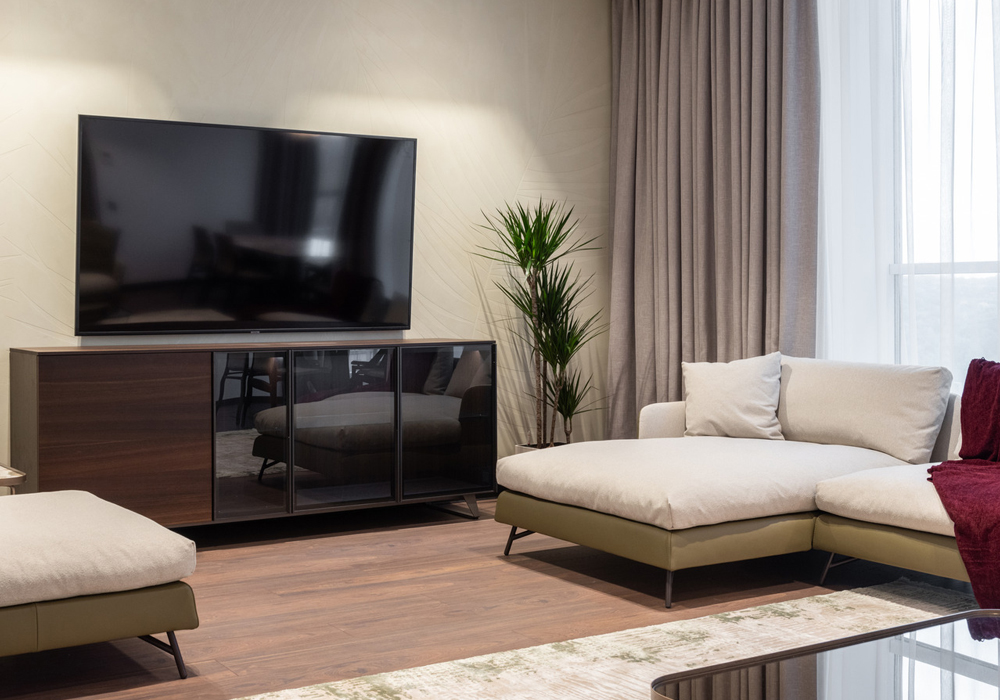 Ruang tamu adalah ruang utama dan mempunyai banyak fungsi – tempat meluangkan masa bersama keluarga, menonton siri kegemaran Netflix dan menikmati pencuci mulut di hujung minggu bersama yang tersayang. Pandemik Covid-19 telah mengubah gaya hidup dan cara kita menikmati hiburan – musik, filem, dan drama. Kita tak lagi mampu menikmati pengalaman menonton filem di panggung wayang tanpa rasa risau dijangkiti oleh virus Covid-19. Lebih-lebih lagi ibu bapa yang mempunyai anak yang masih kecil.
Oleh itu, ramai telah mengubah dan mentransformasi ruang tamu mereka menjadi mini panggung wayang. Sebelum buat keputusan untuk membeli kabinet TV, penting untuk anda memilih kabinet yang bersesuaian dengan ruang tamu anda.
Jom kita terokai kabinet TV mana yang berkenan dan memberikan keselesaan pada anda!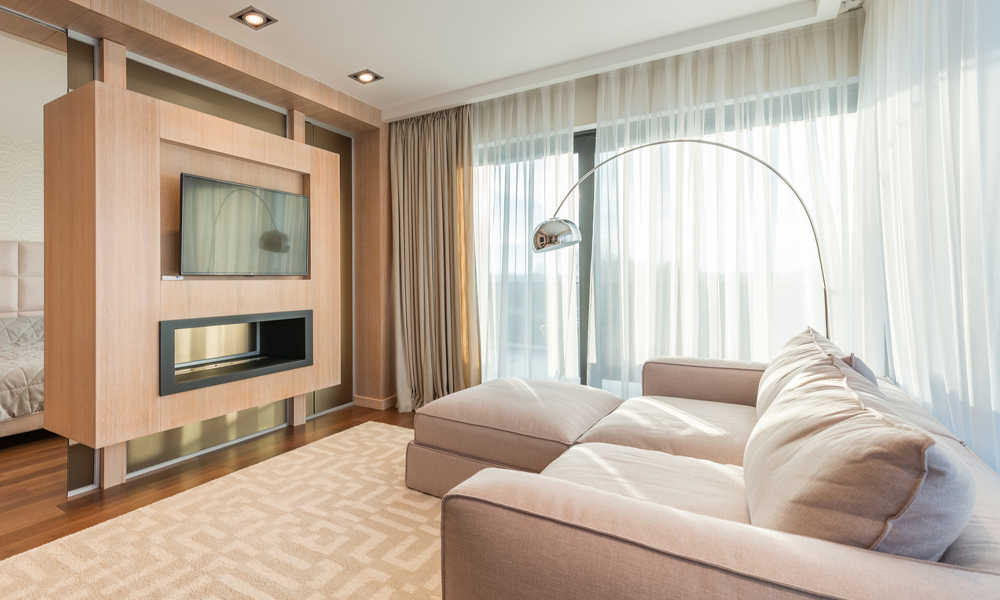 Kebiasaannya, kabinet TV akan dijadikan sebagai titik fokus atau focal point di ruang tamu anda. Oleh itu, penting untuk anda menyelaraskan kabinet anda dengan saiz ruang tamu. Supaya tidak kelihatan awkward. Kabinet TV yang terlalu besar atau terlalu kecil is a big NO! Anda perlu memastikan kabinet TV tidak memakan 70 peratus saiz dinding dan ruang tamu anda. Kabinet yang terlalu besar akan membuatkan ruang tamu anda kelihatan sempit dan padat. Pastinya ia tidak akan memberikan keselesaan yang optimum kepada anda.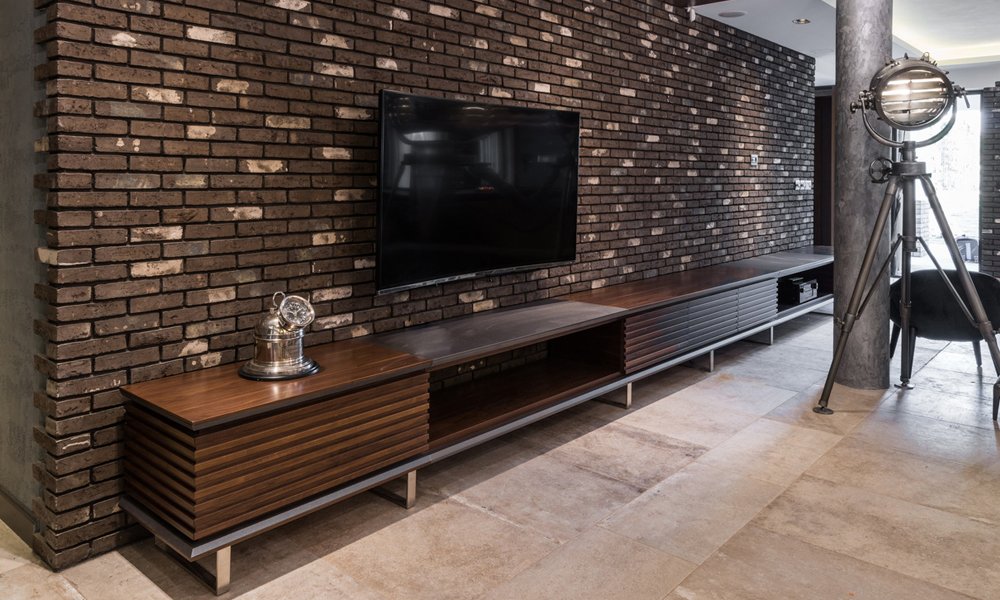 Kabinet TV boleh dianggap sebagai hiasan dalaman untuk keseluruhan interior ruang tamu anda. Oleh itu, anda sangat digalakkan untuk memilih kabinet yang bersesuaian stail dengan keseluruhan konsep ruang tamu. Mixing styles akan membuatkan ruang tamu anda kelihatan kaku dan lead to confused décor. Terdapat pelbagai stail yang ada dipasaran termasuk – minimalis, luxury, Scandinavian, rustic.
Minimalis: Minimalis kabinet TV kebiasaannya mempunyai palet warna yang cerah seperti putih, soft grey, dan soft brown. Sesuai untuk anda yang sukakan perabot berstail simple dan high-function.
Scandinavian: Kabinet TV berstail Scandinavian menyerlahkan kecantikan semulajadi material perabot. Sesuai untuk anda yang suka menggabungkan elemen moden dan simplistik pada interior.
Rustic: Konsep rustic mempunyai ciri-ciri yang sama seperti Scandinavian. Stail rustic juga menonjolkan elemen semulajadi material perabot seperti kayu dan besi.
Luxury: Konsep luxury menonjolkan sisi kemewahan perabot dan membantu dalam menyerlahkan seluruh interior ruang anda.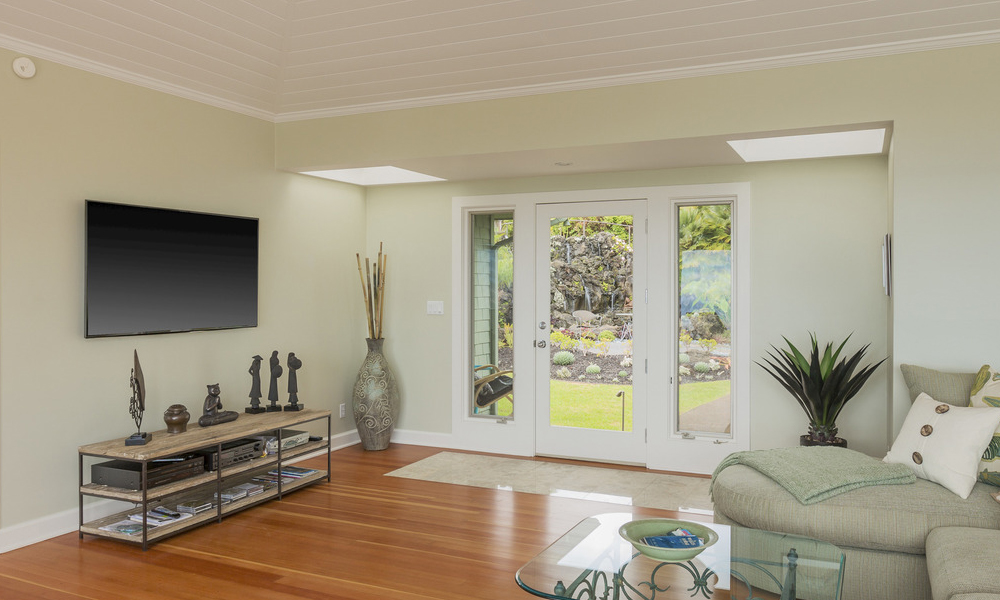 Selaraskan saiz kabinet dan saiz TV anda supaya keseluruhan interior tidak nampak pelik dan unbalance. Oleh itu, penting untuk memastiskan saiz kedua elemen utama tersebut selaras. Selain itu, untuk memaksimumkan keselesaan, penting untuk selaraskan ketinggian TV dengan sofa supaya anda boleh menonton dalam posisi yang selesa. Kedudukan TV yang terlalu tinggi mungkin akan memberi kesan kepada leher dan bahu untuk mendongak. Seterusnya, memberi efek lengguh dan senggal-senggal untuk jangka masa yang panjang.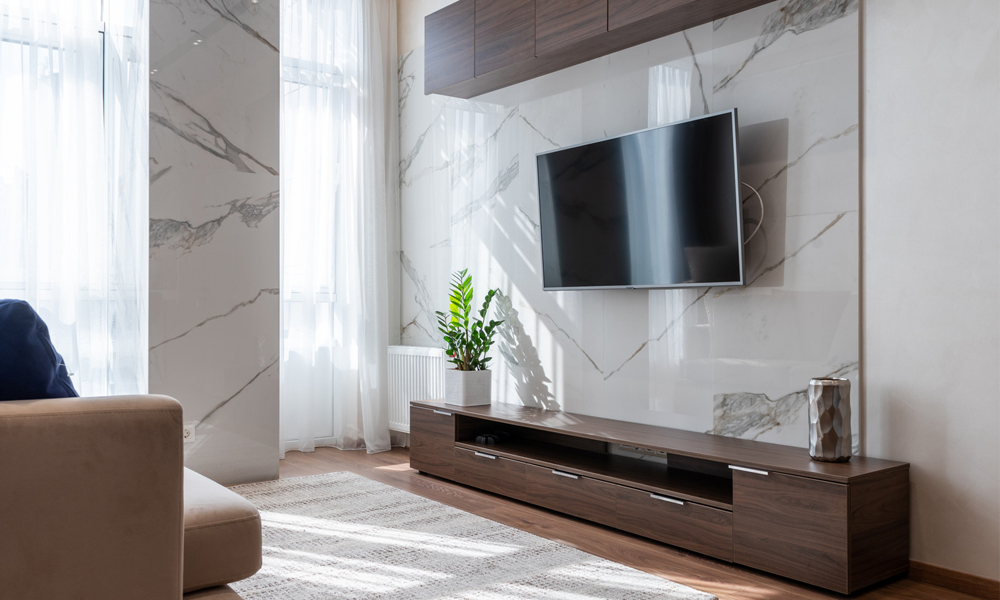 Sebelum membuat keputusan untuk membeli kabinet TV mana yang ada berkenan, antara poin yang patut anda pertimbangkan adalah material perabot tersebut. Ini untuk memastikan perabot yang dipilih mempunyai ketahanan dan jangka hayat yang panjang. Antara common material untuk kabinet TV adalah seperti kayu solid, metal, high-quality particleboard dan medium-density fiberboard (MDF). Kayu solid dan metal adalah antara bahan yang paling tahan lasak berbanding material yang lain.
Kabinet TV yang diperbuat daripada particleboard dan MDF adalah antara alternatif terbaik untuk kos yang lebih murah dan ketahanan jangka hayat yang panjang.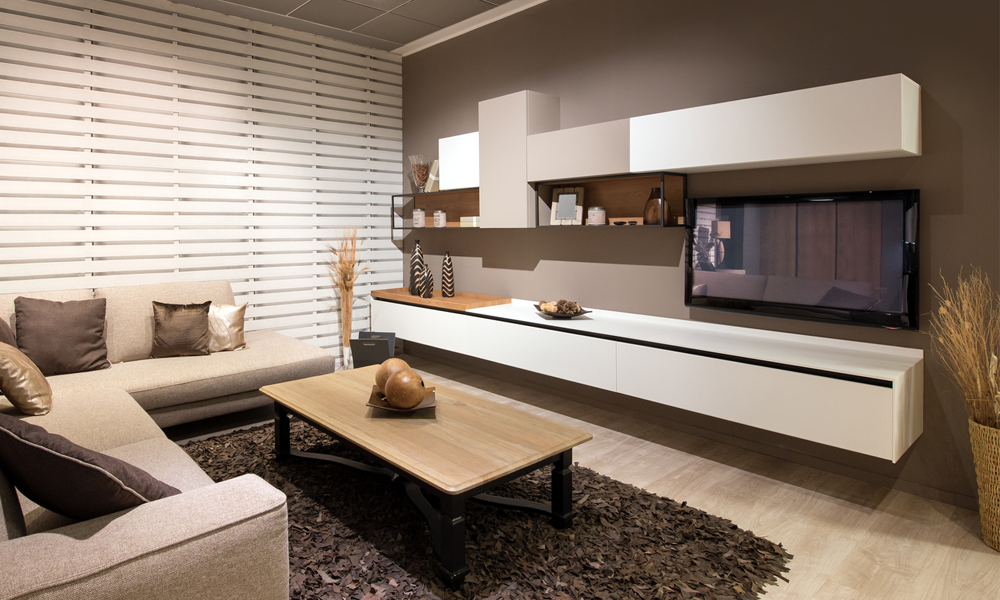 Jika anda seseorang yang sukakan kekemasan, sangat digalakkan untuk anda mencari kabinet TV yang mampu menyembunyikan kabel yang berselirat. Kabel dan wayar yang berselirat bukan sahaja menyakitkan mata tetapi juga berbahaya untuk anak kecil dan haiwan peliharaan.
Selain itu, pilih kabinet TV yang mempunyai ekstra ruang untuk menyimpan barang seperti remote TV, majalah, kabel USB, dan koleksi DVD. Anda boleh memilih kabinet TV with open shelving ataupun hidden pull-out storage.
Sesebuah hiasan ruangan dalaman menonjolkan perwatakan dan identiti sesorang. Menetapkan konsep dan perabot pada sesuatu ruang di rumah anda bukan suatu keputusan yang mudah. Banyak faktor yang perlu dititikberatkan - keselesaan semua, mengikut cita rasa anda dan memberi impak yang positif dalam hidup seharian. Lebih-lebih lagi jika anda mempunyai ruang yang terhad. Diharapakan artikel ini 'Tips Memilih Kabinet TV untuk Ruang Tamu Rumah Anda di Malaysia 2022' sedikit sebanyak memberikan idea untuk menghias rekaan dalaman rumah anda!
Looking for new wardrobes or furniture for your home or interior design project? Check out this amazing furniture website! www.tekkashop.com.my

Contact us to find out more
Customer enquiries:
Phone: +601120641106
Email: admin@tekkashop.com.my
For more stories like this, join our Facebook community on Facebook
Need help with your order? chat with us here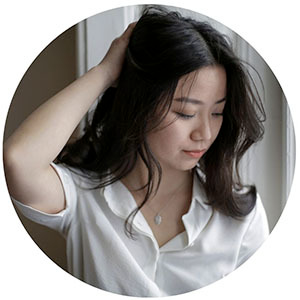 About Author
Fatiha
Fatiha is a freelance content writer specializing in commercial writing, loves travel, and enjoys walking on the beach.