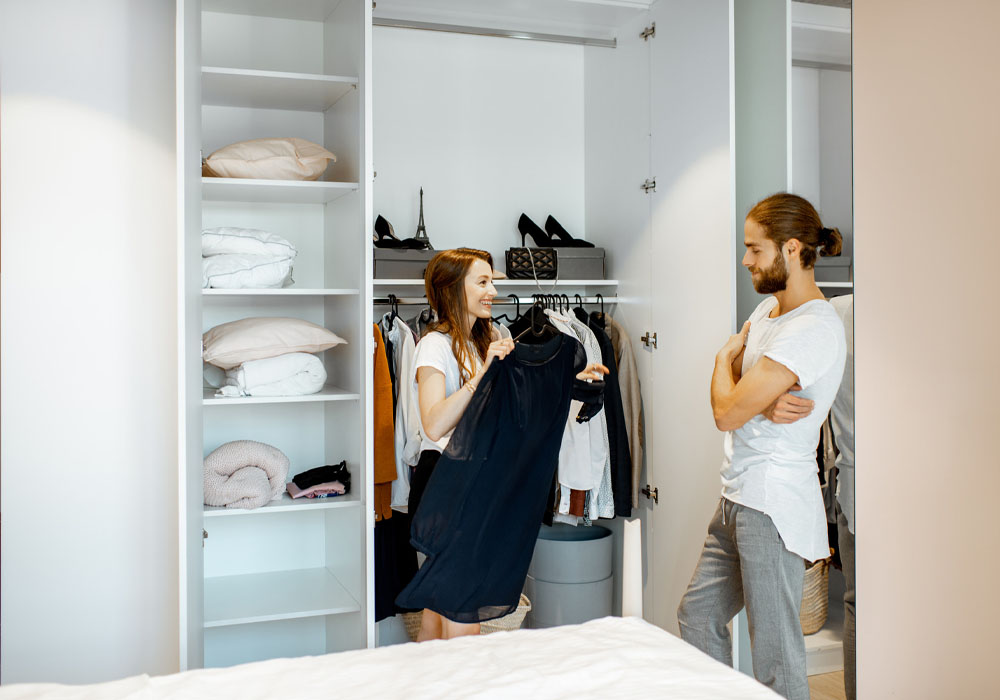 Have you ever felt suffocated and stuck with big furniture in your limited-sized bedroom? If yes, then maybe it's time for you to rearrange and consider changing the furniture to suit your bedroom size. Aside from the bed frame, the wardrobe is the second most crucial element you should incorporate in a bedroom. Having an oversize closet is a big NO! As it would take up so much space in your bedroom and left no room for other furniture.
Fret not and keep reading this article as we discuss some incredible ideas of space-saving wardrobe designs.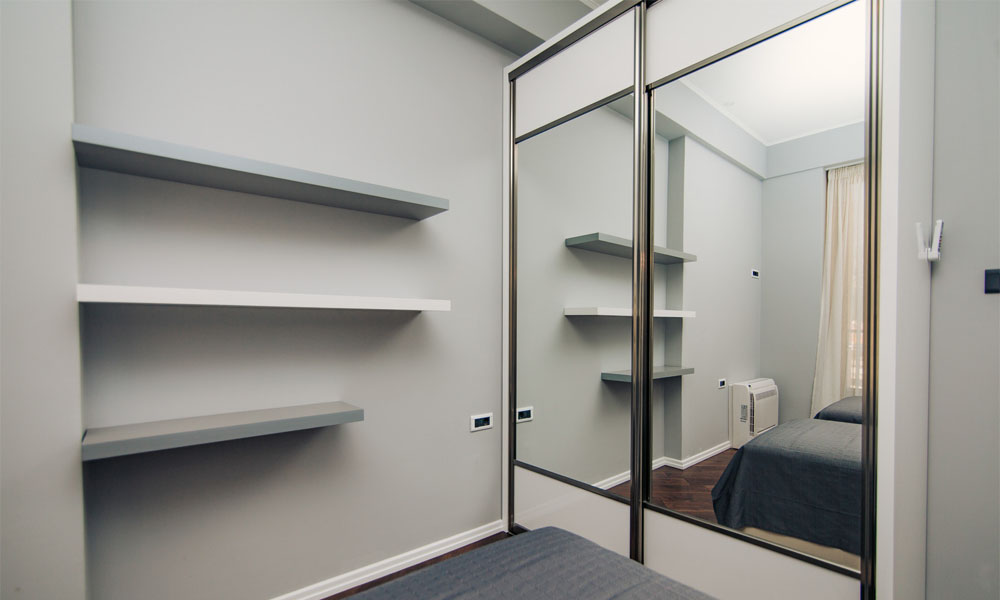 With a small-sized bedroom, you need to plan out your furniture carefully and what type of furniture is suitable to incorporate into your space. If your current wardrobe has regular hinged doors, you should consider changing it to the sliding style. One way to conserve space and prevent hindered movement around the room is by opting for sliding doors. Sliding doors can free up some floor areas and appear sleeker and more stylish. Suitable for any modern room concept – minimalist, maximalist, and luxury.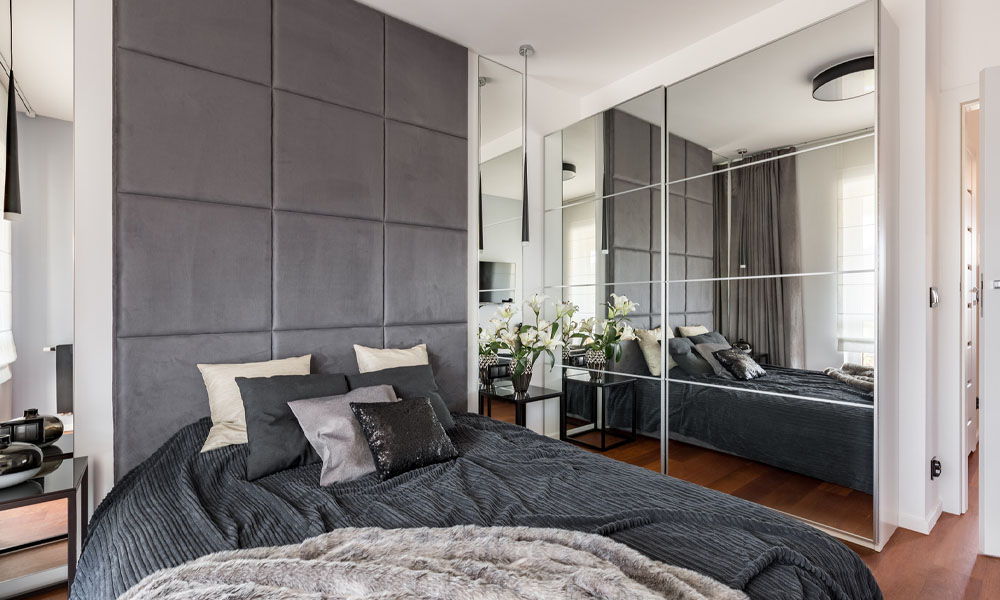 Incorporating a mirror into your interior gives an optical illusion and helps the room appear more extensive and spacious. Integrate the reflective mirrors on the wardrobe panels makes a modish statement and substitutes for the vanity mirror and dressing table. You can keep all your makeup stuff in the wardrobe to conserve space. It would be best to prepare a cute stool to do your makeup and skincare routine comfortably.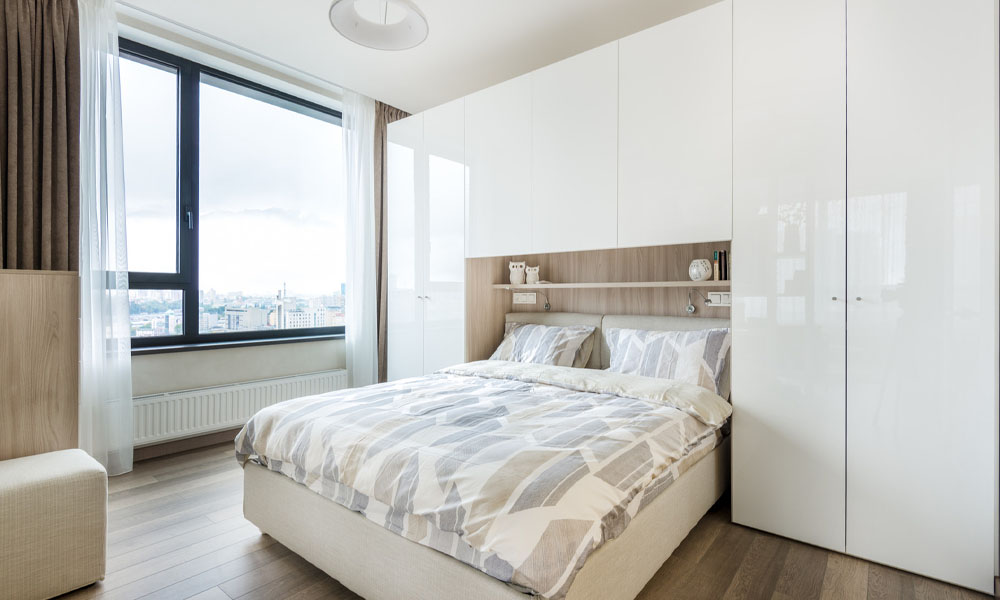 The headboard wall expanded to storage cabinets and cupboards. It helps in maximizing the usage of one side of the bedroom. A note of caution: you need to keep the layout light and minimalist to prevent the room from appearing too cluttered and cramped.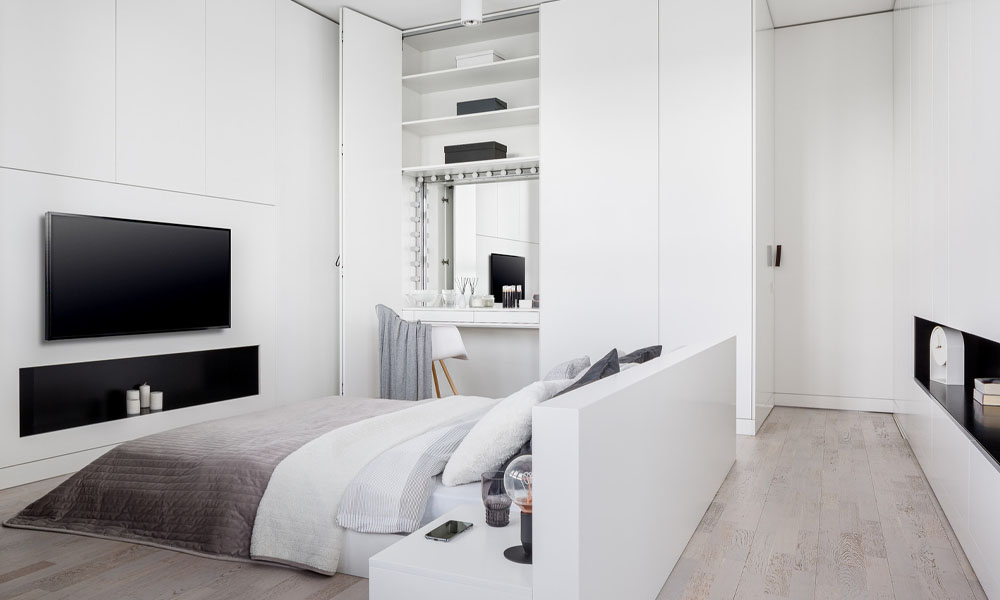 One way to utilize the space is by implementing floor-to-ceiling cabinets. It helps to maximize the storage area and space-saving the floor area. The floor-to-ceiling cabinet usually has extra storage and a section with a TV unit in the middle. This type of wardrobe can save a lot of space by maximizing the storage alongside the added TV section. Therefore, you can keep your belongings – comforter, extra clothes, bedding sheets, and extra pillows intact and tidy.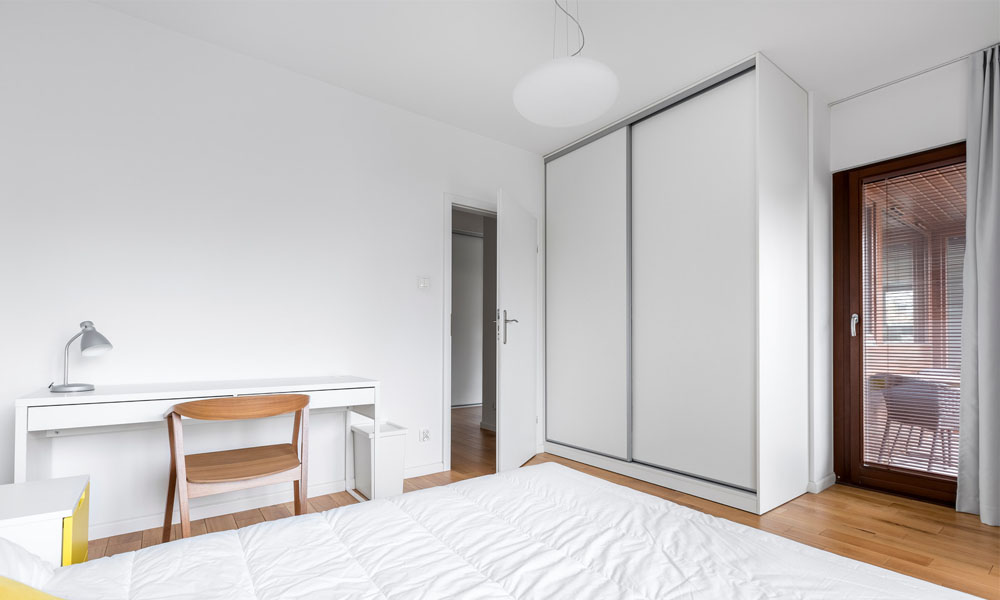 An all-white or light-coloured wardrobe is a great option to incorporate into your small bedroom. The dark colour and bulky wardrobe cabinets would make the room appear too cluttered and stuffy. Apart from that, an all-white wardrobe can fit into various room themes and concepts – minimalist, aesthetic and Scandinavian.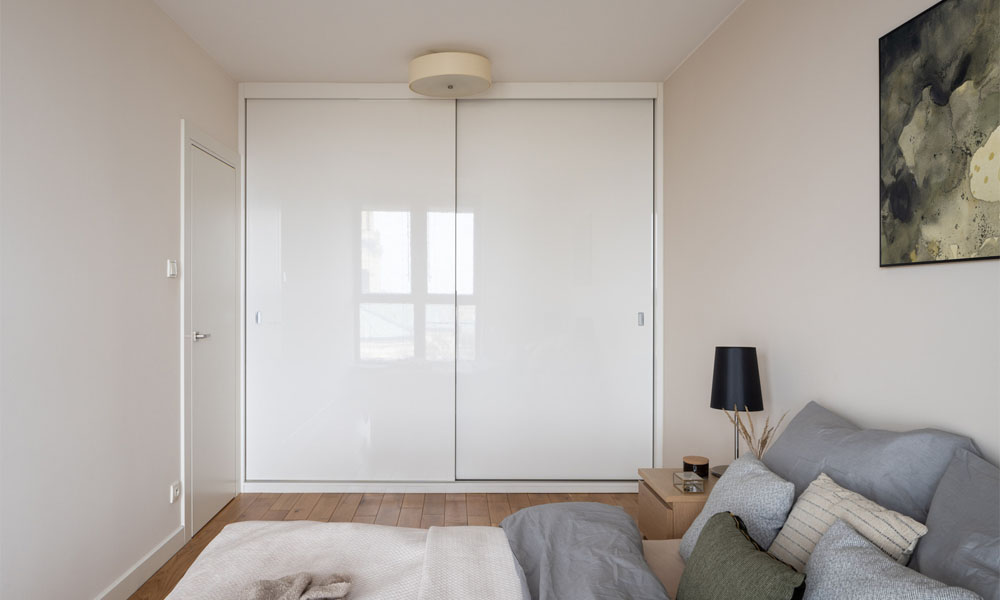 Reflective materials like high gloss acrylic is another excellent alternative to mirror and glass wardrobe. Thus, if you're not fond of mirrors, then you may consider opting for high gloss acrylic. High gloss acrylic is made of hard-synthetic plastic coated with thick layers of lacquer. The glossy finish provides a mirror-like reflection to the cabinet. Although the material is susceptible to fingerprints, it is easy to clean the stains and marks by wiping them off with a damp cloth. Aside from that, it serves a similar purpose as a mirror – it gives an optic illusion to make the room appear and feel more spacious.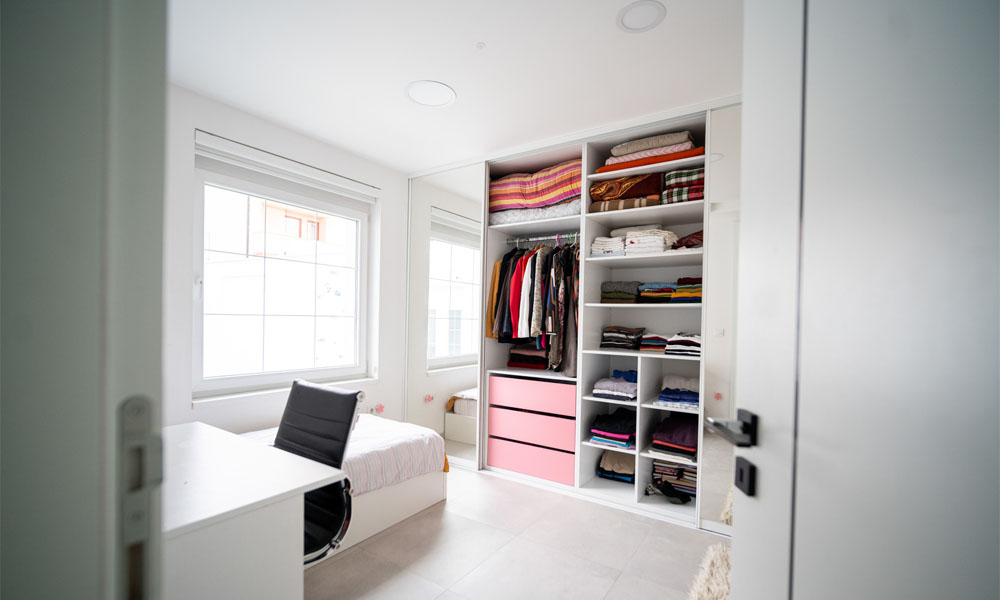 An open layout wardrobe is one of the common ways to integrate into a small bedroom. It requires less maintenance and is usually low cost. However, one deficiency of incorporating this kind of wardrobe is ensuring a well-organized closet to be left open. Otherwise, it will contribute to another cluttered and messy looking bedroom.
Stepping up your home to a better one and deciding what elements to incorporate is undoubtedly not an easy task. I hope this article 'Amazing Space-Saving Wardrobe Designs for Small Bedroom in Malaysia 2022' will give you some ideas for revamping your space. If you're looking for a place to buy home and office furniture, feel free to visit our website or walk into our physical store located in Kota Damansara upon appointment.
Looking for new wardrobes or furniture for your home or interior design project? Check out this amazing furniture website! www.tekkashop.com.my

Contact us to find out more
Customer enquiries:
Phone: +601120641106
Email: admin@tekkashop.com.my
For more stories like this, join our Facebook community on Facebook
Need help with your order? chat with us here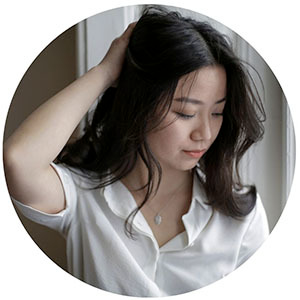 About Author
Fatiha
Fatiha is a freelance content writer specializing in commercial writing, loves travel, and enjoys walking on the beach.